Lee Mansell hopes to stay at Torquay for rest of career
By Brent Pilnick
BBC Sport
Last updated on .From the section Football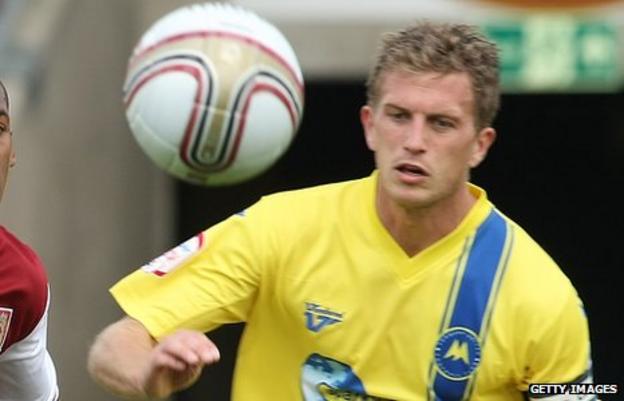 Torquay United's captain Lee Mansell's been a fixture in the Gulls line-up since he joined the club in the summer of 2006 and will continue to be for the next two and a half years after signing a new deal this week.
The 29-year-old says his love for the club, and the seaside life of Torquay, was why he had no hesitation in taking up boss Martin Ling's offer of a contract extension.
"I love the whole place, I'm not shy in saying it either," he says enthusiastically.
"Everyone knows that I love playing for the club, it's a brilliant club to play for."
Mansell began his career as a trainee at Luton Town and joined the Gulls in the summer of 2006 after a season at Oxford United.
He made his debut in a rather nondescript 1-0 opening day win at Barnet and since then has gone on to make 262 appearances for the Gulls in a rollercoaster of footballing emotions.
Relegation to the Conference came at the end of a 51-game first season, in the next they were knocked out of the promotion play-offs by bitter Devon rivals Exeter City and lost an FA Trophy final at Wembley.
Some might have called Mansell a jinx, but in his third season he was an integral part of the Gulls side that went back to Wembley and beat Cambridge United to get back into the Football League.
"It was a difficult time getting relegated but we've climbed back up and we're challenging at the right end now which is good," he says.
"We've had good FA Cup runs, there's so many good times. If you look back on it I've been to Wembley twice, been to Old Trafford in the space of six years."
Mansell was just 90 minutes away from playing in the third tier of English football for the first time since his debut year at Luton Town in 2000, but put paid to that aspiration for at least a year.
This season has seen him face a new challenge with , and a revamped Gulls squad which has seen many of his former teammates move on.
"For me personally it's breathed a bit of fresh air into me, being at a place for a long time you can get stagnant and stuck in your ways, but it's not the case this year.
"I've been moved back into midfield and I'm really enjoying playing my football."
Mansell is not shy to say so when he feels he has been hard done by - you can tell it in his voice when he tells of his frustration at playing much of his time under Buckle at right-back.
"You're sat in a position that you really don't want to be playing in, but you know you've got to do your best for the team.
"You see lads that are in the middle and you think yourself 'I can do better than you in there, I know I can do better than you in there', but I was needed to fill in a void and I did that, and I did it to the best of my ability."
Ling was quick to push Mansell into midfield when he arrived at Plainmoor.
"I've always seen him as a midfielder and when I spoke to Lee in the summer he was very keen to let me know that he'd played the whole season at right-back but he saw himself as a central midfielder," he says.
"His energy would be wasted at right-back and the job he's done in midfield is what I'd have expected from him."
His move further forward has seen a glut of goals. Once ridiculed for his lack of prowess in front of goal Mansell has scored seven times this season, the same amount as in his first five seasons at Plainmoor.
It led to a bet with left-back and good friend Kevin Nicholson that if he scored six goals Nicholson would clean his house naked.
Nicholson, who , was true to his word and last month made the short trip to Mansell's house - they live just four doors apart - wearing a little pink pinafore and carrying a feather duster.
Having agreed his new deal, Mansell hopes he can stay at Plainmoor for the rest of his footballing career.
"But the end of this contract I'll be 31 going on 32. That'll take me onto eight years, 10 years is testimonial year and that is something I'd aim for," he adds.
"Personally I'd love to end my time down here and go on and become a coach, maybe even a manager down here in the later years."