Port Vale say Blue Sky International claims are false
Last updated on .From the section Football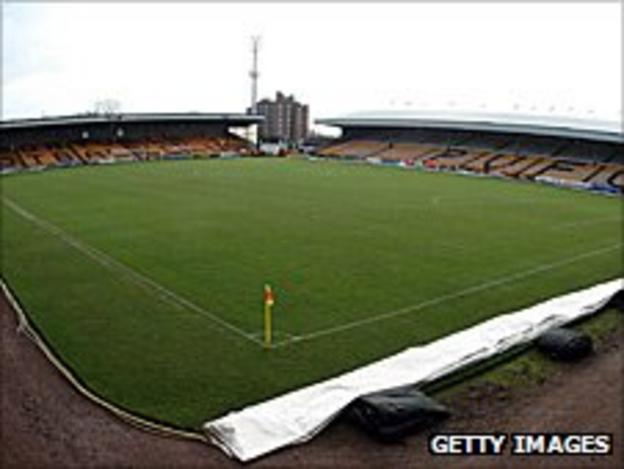 Port Vale will publish "irrefutable evidence" to prove claims made by the CEO of Blue Sky International regarding their £5m investment are inaccurate.
Hank Julicher told The Sentinel he never intended to invest more than £550,000 and denied knowledge of Blue Sky receiving any shares in the club.
Vale chief executive Perry Deakin told BBC Radio Stoke: "We have irrefutable evidence that the claims are false.
"We will be posting copies of the documentation on our website today."
Vale announced the partnership with Blue Sky International on 13 September.
At the time, it was stated that there would be an initial investment of £5m to be spent on the running of the club, Vale Park, a training area and facilities for the local area.
And Blue Sky were also expected to commit a further £2.5m over the next five years.
In an interview published on Thursday morning, Julicher said of the proposed partnership: "The deal's dead and has been, in my eyes, for a long time.
"I simply don't know where these figures of £5m and £8m came from. It was never our intention to invest that kind of money into Port Vale.
"I'd have to be crazy or on drugs to agree to such a thing.
"By my estimation, the maximum outlay for Blue Sky would have been in the region of $850,000 (around £550,000).
"I've received dozens of emails, letters and phone calls from Port Vale fans recently and so I want to make my position clear.
"Blue Sky hasn't put any money into Port Vale and won't be doing so. End of story."
Port Vale's shares register shows that Julicher's wife, Margit, owns 30,000 shares in Port Vale, which were used to vote Deakin and chairman Peter Miller onto the board of directors at Vale Park.
"I know nothing about them and Margit tells me neither does she," added Julicher. "In my opinion, they are 'ghost stock' - 'phantom shares'."
Perry Deakin and Peter Miller, the chief executive and chairman of Port Vale, will be speaking live to Lee Thomas on BBC Radio Stoke's Breakfast programme from 0700 GMT on Friday, 9 December.