Manchester's woeful Wednesday
Last updated on .From the section Football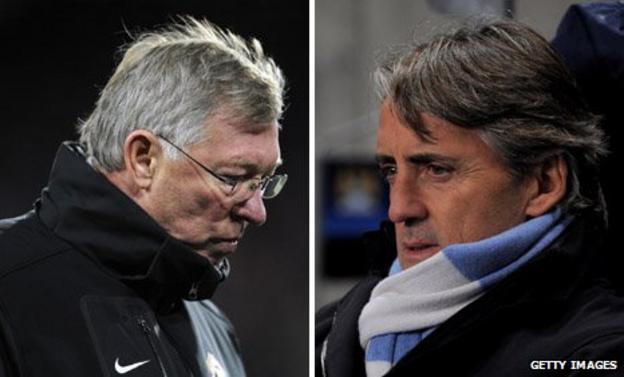 Manchester United and Manchester City have both crashed out of the Champions League after a dismal night for the Premier League's top two.
While London clubs Arsenal and Chelsea continue to mix it with the cream of the continent, United and City are now consigned to Thursday nights in the Europa League.
In the wake of Manchester's woeful Wednesday, former players and pundits have been giving their reaction.
Former Manchester United midfielder and ITV summariser Roy Keane: "I think [going out] reflects what United have done in truth - they haven't scored enough goals and they haven't beaten Basel or Benfica.
"People have talked about the young players - you've had [Phil] ones, [Chris] Smalling, [Ashley] Young coming in, everybody building them up but they've got a lot to do, it's a reality check for some. I'd be getting hold of some of those lads, saying 'you'd better buck up your ideas'.
"I think their best player tonight was Ryan Giggs. That sums it up - he's 37 or 38, you can't be depending on him. United got what they deserved tonight.
"It's a reality check for the Premier League and I wouldn't look beyond the Spanish teams Real Madrid and Barcelona this season."
Ferguson hit back when asked about Keane's comments, remarking on his former captain's experience as a manager.
"He had an opportunity to prove himself as a manager too," Ferguson said. "It is a difficult job."
BBC Radio 5 live pundit Mark Lawrenson: "When the draw came out, we all thought Manchester United had a bye. You have to say credit to FC Basel. They scored five goals in two games against Manchester United and took four points off them.
"I'm not a student of FC Basel's history but I think this is probably their best result ever.
"There is a big difference between City and United. United have been used to marrying the Premier League and the Champions League for years; City will gain from the experience. When Real Madrid and Barcelona hear about the Manchester United result, they will react in disbelief.
"I think we were all surprised when United did not sign a creative midfield player at the start of the season. David De Gea is only 20 and at the beginning of the season his mistakes were being swept under the carpet because United were winning.
"But he has continued to make mistakes."
Former Manchester City defender Danny Mills on BBC Radio 5 live: "When this group stage came out United were a certainty to go through, but they have got it completely wrong. Disastrous results at home have cost them dear and I don't think they did enough here tonight to test the goalkeeper.
"It was a disappointing performance, especially in the second half when they never really went for it.
"Questions have to be asked of David De Gea. Is he the right man to replace Edwin van der Saar? I'm not so sure."
Former United captain and Sky Sports summariser Gary Neville: "It will be a low point and a huge disappointment. I was part of the last team who did not qualify [in 2005-06] and at that point we felt we couldn't get any lower - we hadn't won the league for three years. You have to react in the next game.
"United will be more disappointed than City. City need to improve and progress and get used to playing in the Champions League."
Basel goalkeeper Yann Sommer: "It's incredible. A Swiss team, a little country, against Manchester United, one of biggest teams in the world - it's crazy. But we believed in our strength and we fought until the end, this was the key.
"Manchester are a good team, they had a lot of pressure and sometimes we were a bit lucky not to concede, and this is a crazy night. We are through and Manchester are out - it's super."
Barcelona midfielder Cesc Fabregas on Twitter: "Two English teams and two Spanish out of the Champions League. European football is very strong."
Arsenal goalkeeper Wojciech Szczesny on Twitter: "I don't agree with De Gea criticism. He's potentially one of the best GK in the world but needs time to get his confidence at Man United. You have to perform at your best every game when you play for big clubs and when De Gea is at his best he is unreal. Give him some time..."