Zambia coach Herve Renard's future in doubt
By Kennedy Gondwe
BBC Sport, Lusaka
Last updated on .From the section Football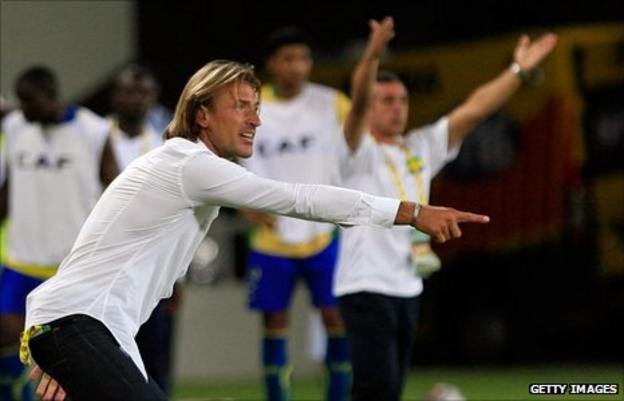 Herve Renard's future as Zambia coach is in doubt as the government is refusing to pay his salary.
The revelation further compounds the coaching problem for the Football Association of Zambia (Faz) as ex-coach Dario Bonetti is demanding $1.6m as compensation for his dismissal.
Frenchman Renard was reappointed in October to replace coach Dario Bonetti.
The Italian was fired barely 48 hours after qualifying the Chipolopolo to next month's African Cup of Nations.
But the government, which traditionally pays salaries for expatriate coaches, says it was not consulted in the appointment of Renard.
"We do not support the recruitment of Herve Renard because it was taken without government consent," sports minister Fackson Shamenda told the country's parliament.
"If government is to meet the emoluments of the new coach, procedure in hiring must be followed."
The state now wants Faz to bare the brunt for engaging Renard who signed a one-year contract.
Shamenda believes it was not necessary to hire a foreign coach when the country had plenty local coaches equal to the task.
He urged Faz to put its house in order and to be transparent in their operations.
"The ministry will not be a part of the contract with the current coach Herve Renard," he adds.
"The recruitment of the coach will be done if it's done in a transparent manner. There should be no politicising of football in Zambia.
"Football is for all Zambians and not a clique of arrogant people."
Both Faz and Renard have refused to respond to government's stance but fans are worried the situation might affect preparations for the tournament.
Peter Makembo, patron of the Zambia Voluntary Football Fans Association, blames Faz for the confusion.
He is unhappy that Faz re-engaged Renard who two years ago quit Zambia for a lucrative offer to coach Angola's Palancas Negras.
"Let them just hire local coaches who have the heart to die for Zambia and not people that just want to make a salary and abandon us after that," he said.
Zambia have been drawn in Group A where they will face co-hosts Equatorial Guinea, Senegal and Libya.