Ipswich Town boss Paul Jewell gets Marcus Evans's backing
Last updated on .From the section Football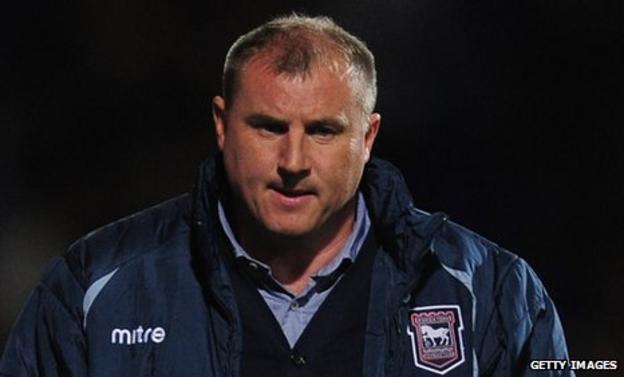 Ipswich owner Marcus Evans has "huge confidence" in Paul Jewell's ability to salvage the club's season, according to chief executive Simon Clegg.
Boss Jewell said he was "embarrassed" by the result but added he did not intend to walk away from Portman Road.
And Clegg told BBC Radio Suffolk: "Marcus has still got huge confidence in the manager and that he can turn this around."
He continued: "We're all devastated. This is a really poor run of games we're on at the moment.
"Let's not forget we had a good run only about five weeks ago. I am convinced we've got the right players to turn this around.
"And if anyone can do it, Paul Jewell can. I've still got a lot of confidence in Paul Jewell. I think he's a top manager.
"It's not a comfortable time at the moment. And all I can do is assure all our loyal fans that every effort is being made to turn this around quickly."
Jewell made a promising start to life as Ipswich manager, steering the club away from relegation at the end of last season.
The new campaign began brightly after the acquisition of 12 new players over the summer months and Town were up to sixth after victory over Portsmouth in October.
But the Suffolk side have lost all six of their games since then and are being kept out of the relegation zone by goal difference alone.
"I know the consequences. I've lost six on the bounce," he said after defeat at Turf Moor. "If a change happens there's nothing I can do. All I can do is my best.
"I want what's best for the football club. The owner has been nothing but supportive of me.
"I don't want to walk away from it but what I want to do is do the best for Ipswich Town because it's a wonderful football club.
"I'm proud as punch to be manager of Ipswich and I felt physically sick watching that."