Portsmouth owner Vladimir Antonov steps down
Last updated on .From the section Football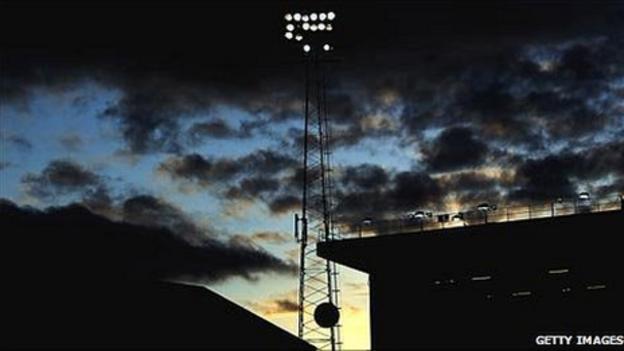 Portsmouth could be docked points after parent company Convers Sports Initiatives entered administration.
Controlled by London-based Russian businessman Vladimir Antonov, who has now resigned, CSI only took over Championship club Pompey in June.
"I don't hold out much hope of the club avoiding at least a 10-point loss," lawyer Guy Thomas told the BBC Sport.
"It's disappointing for the club to find itself in this position," said Pompey chief executive David Lampitt.
Tuesday's news is the latest twist in a bitter saga for Portsmouth, who have been beset by financial problems in recent seasons.
They became the first Premier League club to enter administration in 2010 and were consequently deducted nine points on their way to relegation from the top flight.
Now it looks like they could be hit by a further points penalty, which would put them in danger of the drop from the Championship.
They currently sit 19th in the table on 20 points - a 10-point penalty would out them bottom.
The club insist that the situation is not as bad as it seems and appear confident they will escape punishment.
"Portsmouth Football Club (2010) Limited - the company that operates PFC - is not in administration and continues to trade," read a statement.
However, the Football Association has previously indicated that clubs whose parent company enters administration will be docked points.
"It will have to be decided whether CSI and Portsmouth were effectively run as one economic entity," insolvency lawyer Thomas of Taylor Walton told BBC Sport.
"The penalty - ranging between 10 and 25 points - will depend on the outcome of that review."
What happened to Championship rivals Southampton in 2009 offers a worrying precedent for Pompey fans.
Then, Southampton's parent company, Southampton Leisure Holdings (SLH), went into administration and an independent investigation by the Football League found the club and SLH were "inextricably linked as one economic entity".
Southampton were subsequently deducted 10 points.
"The matter will be considered by the Board of the Football League as and when all the facts surrounding the administration of the club's parent company become available," said a Football League spokesman.
Colin Farmery, who runs a Portsmouth supporters website, told BBC Radio Solent that CSI's insolvency could have a significant impact on the football club.
"The worst case outcome is that because the club is potentially going insolvent for the second time in 18 months, the Football League may take a dim view of that.
"The other side of that is the Football League approved these people of being fit and proper of running a football club."
Farmery added: "On a basic level, if CSI are involved in insolvency proceedings, that will have an impact on Portsmouth football club - and time will tell how big that will be."
Antonov, who last week was arrested in an inquiry into asset stripping, secured the sale of Portsmouth from Hong Kong businessman Balram Chainrai, director of Sports Holdings (Asia) Ltd in June. Portpin is another Chainrai company.
Chainrai first took over at Fratton Park in February 2010, placing Portsmouth in administration after initially investing £17m in the club, and "reluctantly" assuming control when previous owner Ali Al Faraj defaulted on loan payments due to him.
Last week, Portsmouth's former owners Portpin Ltd re-emerged as an interested party in the club's future after filing a charge at Companies House over the parent company making it a secured creditor over CSI.
"I want to assure staff and fans that we will continue to do everything possible to safeguard the position of the club and its longer-term future," added Lampitt.
Last week, Antonov and his business partner Raimondas Baranauskas appeared in court in connection with the alleged asset stripping of a bank in Lithuania.
Prosecutors in Lithuania want to question Antonov and Baranauskas as part of an investigation into claims involving Snoras Bank.
The men were arrested in London on Thursday after Lithuanian authorities issued extradition warrants. Both were released by Westminster Magistrates' Court on conditional bail.