Gary Speed: Tributes pour in for Wales manager who has died aged 42
Last updated on .From the section Football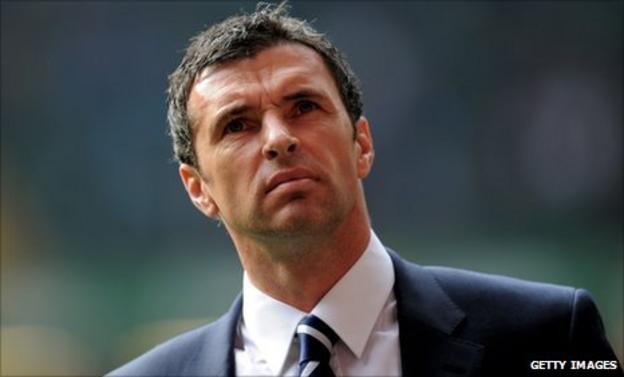 Tributes have been pouring in for Wales manager Gary Speed who has been found dead at his home near Chester.
The 42-year-old former midfielder won 85 international caps and had been national team boss for 10 games.
Speed made his name at Leeds and played a key role as United won the First Division title in 1992.
The midfielder went on to play for Everton, Newcastle, Bolton and Sheffield United before injury forced him to retire in May 2010.
He joined the coaching staff at Bramall Lane before replacing Kevin Blackwell as manager just weeks into the new season.
He was appointed manager of Wales in December 2010 and the 4-1 friendly win over Norway on 12 November represented a third successive win for Speed's team - his fifth in 10 games as manager.
Cheshire Police confirmed Speed's body was discovered at 0708 GMT at his home in Huntington, Chester, and said there were no suspicious circumstances. Sources said that he had been found hanged.
Current Leeds manager Simon Grayson said: "We signed on the same day and played in the youth and reserve teams together.
"We also did all our coaching badges together. He was a good friend and this is a very sad day. Gary was such a popular person and this is a hard time for everybody."
Former Wales team-mate John Hartson added: "When I got the news, it was shocking and heart breaking. Bobby Gould told me. I didn't really want to face people. It's such a tragedy. He was such a lovely fellow.
"He led by example. He was inspirational and that's why we are all feeling it so bad - we couldn't see it coming."
Bobby Gould, who made Speed Wales captain, said: "I'm stunned and a few tears have been shed. It is so sad."
Robbie Savage, who is currently appearing on the BBC's Strictly Come Dancing programme, also played with Speed for Wales and told BBC Sport: "I spoke to him yesterday and he was in high spirits. I just can't believe it. He was my mate and he's gone.
"He's left two gorgeous kids behind. Gary was [a professional]. He was one of the fittest guys. He looked after his body.
"He was a great team-mate, a great manager.
"He was joking yesterday [on Saturday about Robbie being on Strictly Come Dancing], saying don't get a two off Craig [Revel Horwood]."
Manchester United midfielder Ryan Giggs, who played alongside Speed with Wales for 13 years, said he was "totally devastated."
"Gary Speed was one of the nicest men in football and someone I am honoured to call a team-mate and friend," he said.
Ex-Wales boss Mark Hughes said: "I'm devastated. He was a privilege to work alongside and call a friend. My thoughts are with his family."
Howard Wilkinson, his manager at Leeds, told BBC Radio 5 live: "He had so much to offer as a person and as a sportsman.
"I just find it unbelievable. I cannot start to try to understand what his family are going through.
"Gary had a lot of talent and that talent became his job. Footballers are subject to all the stress and strains of things that happen in life.
"He was a star in the truest sense. For him at 42 to leave us is such a tragic loss. He had a life of success to look forward to."
Gordon Strachan, who played alongside Speed when the two were at Elland Road, he told BBC Radio 5 live: "I was proud of Gary Speed, like a kind of father figure would be because he wasn't the most talented of kids when I first met him but he wanted to make himself better.
"I am going to miss his laugh, he had a childlike laugh. I was speaking to Gary McAllister and I said I would forget the games and the goals but I would never forget his laugh and I am never going to hear that again."
Speed appointed Aaron Ramsey as Wales' youngest captain and the Arsenal midfielder tweeted: "I was given the tragic news this morning. To say I am devastated is an understatement."
Ramsey added: "My thoughts and prayers go out to Gary's family and friends. Today the world has lost a great football manager but even more sadly a great man. He will be missed by all", while Wales striker Robert Earnshaw said Speed could have been a great manager.
BBC Sport's Match of the Day pundit Alan Shearer, who played alongside Speed at Newcastle, told BBC Sport: "Gary was a magnificent person, bright, fun and a wonderful family man - he lit up every room he walked into. I am proud to have been his friend and will miss him dreadfully."
A brief statement on Sheffield United's website read: "Everybody at Sheffield United is extremely shocked and saddened to learn of the death of former player and manager Gary Speed.
"Thoughts are with Gary's family and friends at this distressing time."
After the news of his death broke, there was a minute's applause as a mark of respect from fans before Welsh club Swansea played Aston Villa on Sunday at the Liberty Stadium.
Kenny Dalglish signed Speed from Everton in 1998 when he was Newcastle United manager.
He said: "I knew Gary Speed as a fantastic footballer but more important than that he was a decent man and there will be a lot of people very saddened by what has happened.
"The most important people at the moment are his wife and two boys and your heart goes out to them."
Another manager who signed him was Sam Allardyce who took him to Bolton in 2004. He said: "As soon as he walked into the club he had an aura. When generally an old professional might moan and groan and say 'I don't want to do this' he just took it on board.
"I was also fortunate to get to know him as a person. He was an outstanding individual and this is what's devastating."
Former England captain David Beckham said: "He was an amazing and talented player, one who had a glittering career, and he had just started a great career in management.
"On behalf of myself and everyone at LA Galaxy, we would like to send our love and thoughts to his wife, children and family because it is a sad time to lose a man like this."
Speed's assistant coach Osian Roberts paid an emotional tribute, saying: "It is tragic news, totally unbelievable.
"We looked forward to Wales camps because he led by example from the front, making people work harder, demanding more and everyone wanted to do their best because he was a generous person.
"I know I speak for everyone when I say everyone in the Welsh camp is devastated."
The Football Association of Wales (FAW) chief executive Jonathan Ford said: "I, and all of the football family of Wales, am devastated by the news of Gary's passing. My thoughts and prayers are with his wife and family at this difficult time."
FAW president Phil Pritchard added: "I am completely shocked by this terrible news and my thoughts are with his family. We will do whatever we can as an association to help them in this difficult time. All our thoughts are with his family and this sad time."
Football League chairman Greg Clarke said: "Gary's death at such a young age is an absolute tragedy and the thoughts of the Football League and its clubs are with his family, friends and all his colleagues at the Football Association of Wales.
"He was a model professional throughout an exceptional playing career and, as expected, he had quickly become a manager of huge potential.
"Gary was held in great esteem throughout the domestic game and his passing is a great loss to football in both Wales and England."
Speed played for Wales over a period of 14 years and his former team-mate Dean Saunders said: "I just can't believe it. I spoke to him last week.
"We roomed together all of our careers with Wales. I just can't get my head around it. It's incredible.
Another of Speed's former national team-mates Mark Bowen told BBC Sport: "Like the rest of the footballing community I am totally stunned. My thoughts are with his family it's hard to put into words.
"He trained like he played, he gave it 100%, he lived his life right off the field in terms of nutrition, which was new to a lot of us in those days.
"I'll remember seeing the smiling look on his face in the tunnel after the last Wales game."
Ipswich Town manager Paul Jewell, who did his coaching badges with Speed, added: "He was rare in football. It's a jealous world, people are always having a go at you, or talking about someone but you never heard Gary Speed talking about anybody or anybody saying anything bad about him.
"When someone dies people always say nice things but genuinely, I don't think there's anyone in the game who had any edge with Speedo.
"It puts football into perspective. I've been pretty down about our results recently but when you hear about and think about how his family must be feeling today - and for the rest of their lives - it pales into insignificance."
Speed had appeared on BBC's Football Focus programme on Saturday with presenter Dan Walker, who tweeted: "Staggered by the news of Gary Speed's death. Was with him for much of yesterday [Saturday]. I genuinely cannot believe it. Thoughts with his family.
As tributes continued to come in from the world of sport and beyond, a Downing Street spokesman said: "The Prime Minister was deeply saddened to hear of the death of Gary Speed, who was greatly respected by football fans across the country both as a player and manager.
"The Prime Minister's thoughts are with his family and friends on this very sad day for fans everywhere, especially in Wales."
Speed, who was awarded the MBE in the 2010 Birthday Honours, leaves a wife and two children.