Bundesliga game called off after referee's suicide bid
Last updated on .From the section Football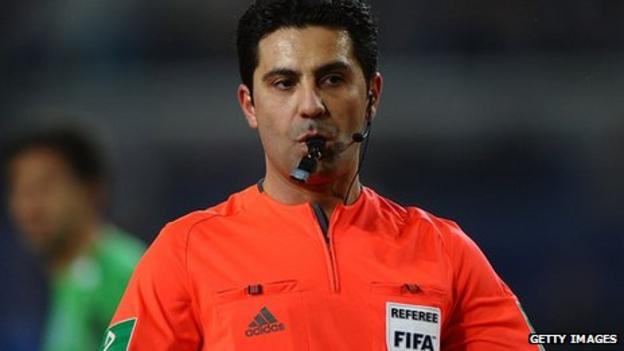 A German top-flight football match was postponed after the referee tried to kill himself before the game, according to police and league bosses.
Babak Rafati, 41, was found injured in a hotel room by his assistant referees.
Rafati, a banker who has been a referee since 1997, is said to be in a stable condition in intensive care.
The Cologne versus Mainz 05 Bundesliga match in which he was due to officiate on Saturday was called off 40 minutes before kick-off.
The referee's father, Djalal Rafati, said there was no hint of his son's turmoil.
"He never spoke to me about depression or burn-out. If he had done that, I would have reacted," Djalal Rafati told Cologne newspaper Express.
"He was very happy (being a referee). I can't understand why Babak did this."
On Saturday evening, Djalal spoke to his son for the first time since the suicide attempt.
"He just said, 'Dad, forgive me for what I have done' and I replied, 'of course, but now you have to recover first'."
"I can't understand why Babak did this."
BBC Sport understands that Rafati was found injured two hours before kick-off.
FA president Theo Zwanziger said: "Once he did not show up, because he is always on time, [the assistant referees] tried to reach him by phone in his room.
"They went [to the hotel] and found the door locked.
"They knocked, no-one opened, then they quickly opened the door with the help of hotel staff. They told me what they found.
"I think the most important news is that, health-wise, Babak Rafati is stable. He will be in [intensive care] in the coming days and will need intensive treatment."
Zwanziger later told AFP: "It is an extraordinary situation, when one of our top referees makes a suicide attempt. I have to say, the three assistant referees saved Babak's life.
"One wonders why such a young man sees only hopelessness before him. I can only offer that our referees are exposed to an incredible amount of pressure and we have not managed to get things in the proper balance."
Bundesliga coaches have expressed their shock at the incident.
Schalke coach Huub Stevens said: "It's hard to believe that something like this can happen. I am lost for words.
"Health is always the most important thing and football is only a minor matter in comparison.
"I can imagine no-one wants to play after hearing the news."
Hanover 96 coach Mirko Slomka said: "I know him very well. The news has shocked me greatly."