Manchester United will treat Swansea like Barcelona, says Alan Tate
Last updated on .From the section Football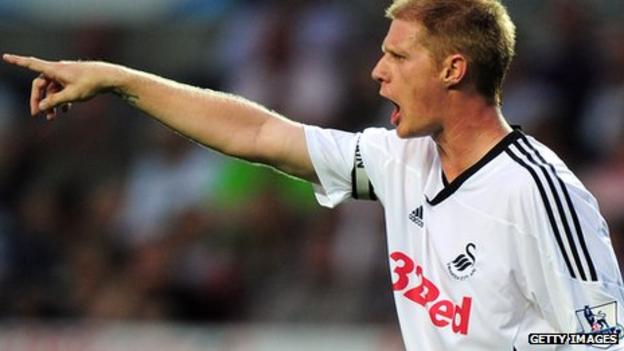 Alan Tate says Manchester United will prepare for Saturday's game at Swansea in the same way they would for a clash against Barcelona.
The Premier League champions visit the newly promoted side on Saturday.
Tate, currently out injured following a freak golfing accident, started his career at Old Trafford.
And when asked how United will approach the game at the Liberty Stadium, Tate replied: "Exactly the same as they would going to Barcelona."
Having worked under Sir Alex Ferguson during his time at Old Trafford, Tate is familiar with United's high standards.
"The manager won't let them take any game easy," Tate told BBC Wales' Sport Wales programme.
"He won't let them treat any game different to the biggest game that they will probably play in their lives.
"They will be well aware what we're good at, what we're not good at. They'll have a game plan on how to beat us.
"They are the biggest club in the world. They're not scared to go anywhere. They'll play the way they play.
"They're not going to change their approach for us."
Swansea will be defending an unbeaten home record when United visit the Liberty Stadium for Saturday's early evening match.
And Tate insists Brendan Rodgers' side will be going out for victory against the 19-times champions.
"We're not going to go into the game thinking it's Man Utd [and] if we get beat three or four we've done well," he said.
"We'll go into the game wanting to win it. We can't approach games any different.
"United will come here trying to win it, we'll go out and try and win it. It will be an entertaining game I hope."
County Durham-born Tate joined Manchester United's centre of excellence as a 10-year-old and later captained the reserve side.
He spent loan spells with Royal Antwerp in Belgium and Swansea before moving to south Wales on a permanent deal in 2004.
But Tate does not dwell on what might have been at Old Trafford and says he has enjoyed being part of Swansea's rise to the Premier League.
"I've never looked back since really," said the 29-year-old.
"The one regret that I've got in my career is that I never managed to play a first team game for United.
"It's not the be all and end all for every player. You can still go on and make a fantastic career out of it.
"Hopefully the people down here [in Swansea] appreciate what I've done because I appreciate what they've done for me.
"They've given me such a fantastic career down here."
Catch Sport Wales on BBC Two Wales on Friday at 1900 GMT