Nigel Pearson thrives on Leicester City pressure
Last updated on .From the section Football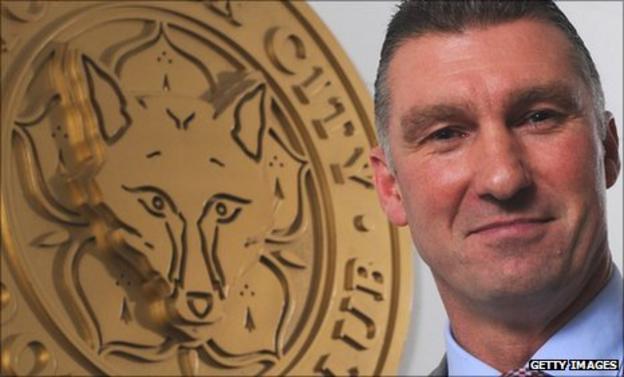 Leicester City manager Nigel Pearson says he will thrive on the pressure of having to deliver Premier League football to his new club.
And Pearson told BBC Radio Leicester that working for the club's ambitious Thai owners does not faze him.
"I am not coming into this with my eyes shut. I know the expectations and quite enjoy having that pressure," he said.
"The remit here is to achieve promotion - as it was the first time I came here. It's not easy but I am looking forward to the challenge. I am really pleased to be back.
"I am a big believer in following your instincts in terms of decision-making and I am prepared to put myself into what is a pressure situation. I don't mind that positive pressure."
Pearson, 47, resigned as Leicester manager 18 months ago after a two-year reign and took over at Hull City. But the club he has returned to has undergone a major transformation in that period.
The big-spending owners are desperate to win promotion to the top flight, and by replacing Eriksson as manager after only 12 months in charge, have shown they are prepared to do whatever they feel is necessary to make that dream a reality.
Pearson, who has signed a deal until the end the summer of 2014, guided City to promotion from League One in 2008-09 and then took them to the Championship play-offs in the following campaign.
And knows he must bring instant results and challenge for promotion this season.
"It's about us being successful," he said. "We have to get things moving quickly. There is no honeymoon period this time.
"We are in November and the club would expect to be in a better position and I am sure the fans would as well - and we have to do something about it."
City are 12th in the table and are now adrift of the play-off spots
Despite the obvious need for instant results Pearson, is mindful of not attempting to take on too much too soon admitted they must "change things pretty quickly"
He added: "As it sits at the moment we are still not a million miles off the top six.
"But we have to get our season back on track because when a team loses its manager, and there has been a gap of three weeks, it can breed a little bit of insecurity and uncertainty.
"I tend not to get too carried away with the highs or the lows but, very quickly, we have to get to grips with this squad and move in the right direction.
"But it's about the players. If we can get the players playing to their potential and get a real squad ethic going then I think we have a good chance.
"The first goal is to get some stability, get the belief into the players and make sure we give a good account of ourselves every time we take the field.
"Football fans want to see their teams play with a desire and a passion and if we do that we have some quality players.
"We have to produce the goods and the fans will get behind us. My job is to instil some pride and belief into the players.
"It's one one stage at a time but I fully appreciate the scenario. It remains to be seen if we achieve it."