Steve Lomas praises quality of Scottish football
By Jim Spence
BBC Scotland
Last updated on .From the section Football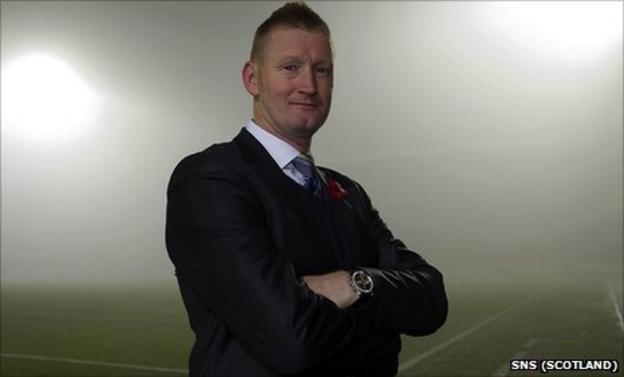 St Johnstone manager Steve Lomas has been impressed by his crop of players as he prepares them for his first match in charge against Rangers at Ibrox.
"The boys that have been in the squad but haven't been playing, I've been pleased with them," said Lomas.
"They're actually now pushing for a place in the team and that can be nothing but good.
"It keeps the lads on their toes and if they neglect their jobs then there's somebody waiting in the wings."
Lomas also believes England-based critics of Scottish football have not seen enough of the game and believes his fellow Northern Irishmen and the Scots share the same hard-working attitude.
He also feels that the money leaving the game at the top level has helped the national team.
"What I enjoy about Scottish football is the honesty, the passion and the commitment," said Lomas.
"I keep hearing there is no quality, it is no good, but that's people who haven't been up to see it.
"There is good quality, there are some good players in the Scottish game.
"Where it's been a negative where the money's gone out of the game has been with the foreigners, like the de Boer brothers [Ronald and Frank]."
Lomas also feels that up-and-coming Scottish players have a greater chance of making it into the first team at their clubs and that that benefits Scotland manager Craig Levein.
He said: "Maybe the standard has dropped at the top end, but it's helped the Scottish national team because more and more players are getting to play, whereas, say, five or 10 years ago the younger players wouldn't be coming through and they'd just be sitting on the bench at Rangers or Celtic."
And Lomas pointed to the likes of Darren Fletcher, James Morrison and Charlie Adam as further proof that good quality Scottish players are coming through.
"That is an unbelievable midfield, and there are probably six or seven who could easily step in and take their place," he added.
"And you've got Kenny Miller up front so you've got a lot of quality."