QC Paul McBride urges Celtic to get tough on Green Brigade fans
Last updated on .From the section Football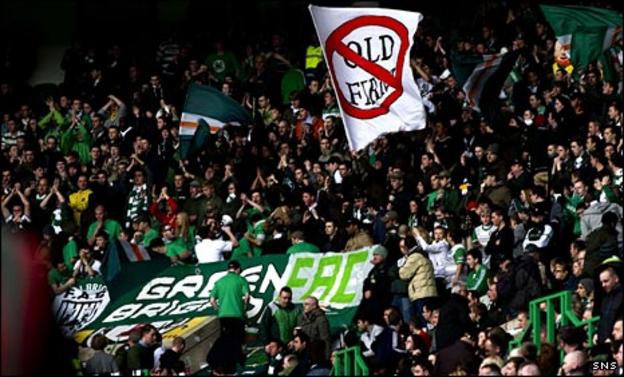 QC Paul McBride has urged Celtic to take sactions against members of its Green Brigade section of fans who continue to glorify the IRA in song.
McBride, who has advised Celtic manager Neil Lennon, was reacting to news that Uefa is investigating alleged "illicit chanting" by the club's supporters.
"The particular organisation who tend to be involved singing this are called the Green Brigade," said McBride.
"Education has not worked and now it is time for sanctions."
European football's governing body in April fined Celtic's city rivals, Rangers, £35,000 and banned their fans from their next away European game for sectarian singing in a match against PSV Eindhoven.
Now Celtic face an 8 December hearing over chants reported by Strathclyde Police's match commander at their Europa League game against Rennes on 3 November.
"To be fair to Celtic, they do have, generally, a very good reputation with their fans in Europe," said McBride about the club he supports.
"But we can't ignore the fact that, for a number of years, there have been a small section of the Parkhead crowd who sing songs about the IRA and the provisional IRA and they dress it up by saying that it's political and not religious and it's not sectarian.
"But it misses the point entirely. It is offensive.
"What do you say to a 10-year-old child who asks his father why people are singing about killers at a football game?"
While McBride pointed out that the case against Celtic on this occasion had yet to be proven, he expected that it would result in tougher action from chief executive Peter Lawwell.
"Celtic, on the face of it, may have a case to answer and it may well be that, as it is the first time it has been drawn to Uefa's attention, they will be simply given a warning," he said.
"But it's a warning shot to Celtic that they will have to deal with it as an issue.
"To be fair to Peter Lawwell, he has been doing that for the last couple of seasons.
"He has been discussing it with their so-called leaders, I am not sure their leaders are actually in control of all of them, but he has been discussing it with them.
"He has been making it clear publicly and privately, he doesn't want this kind of activity and, in a crowd at Celtic Park of say 58,000, we are talking about no more than 500 people.
"So it can be done and I think, Peter, he won't be embarrassed, he will be angry that the club's otherwise excellent reputation is being diminished by this kind of activity and I think we'll see fairly firm action over the next few weeks from the Celtic board."
Celtic blogger Paul Brennan, though, suggested it was an insignificant problem at Celtic Park and did not know of any such singing at the match against Rennes.
"If the police have a matter that they want to act on then it's the police's responsibility to do so," he said.
"And it's certainly the police's responsibility to alert the club there and then as to what's going on.
"It does the club, it does the fans and our reputation as a nation no good for the police to go behind everyone's back, take no action whatever on the day but raise it with an external body."
However, Piara Powar, executive director of the FARE anti-racism network that has previously reported Rangers to Uefa, insists it is right to target sectarian chanting by both sides of the Old Firm.
"The extent of the problem we have seen in Glasgow has been around for years and years, but it's only in the last 12 months that the authorities have really begun to get their heads around it," he said.
"I think Scottish football had fallen into a place where there was a sense of 'we don't like what happens but the whole city is caught up with it'."