David Ginola to sue Gerard Houllier over book remarks
By Jimmy Smallwood
BBC Sport
Last updated on .From the section Football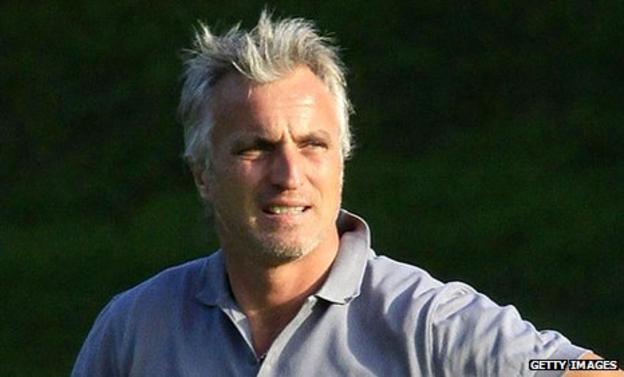 Former Tottenham and Newcastle midfielder David Ginola is suing his one-time France coach Gerard Houllier.
Houllier managed the French national team between 1992-93, as well as Liverpool and Aston Villa in England.
He is alleged to have referred to Ginola in offensive terms in a new book, Coaches' Secrets.
"David is absolutely incensed," a spokesman for Ginola told the BBC. "Houllier should stop talking like this. Stop singling David out."
The pair have had an acrimonious relationship for many years, with Houllier often criticising Ginola's role in France's failed bid to qualify for the 1994 Fifa World Cup.
In November 1993, the home side only required a draw in their final World Cup qualifier against Bulgaria to reach the finals and were level at 1-1 going into the final minutes.
But Emil Kostadinov's last-gasp winner in Paris, after substitute Ginola misplaced a cross, sent Les Bleus crashing out of the competition.
In 2000, Ginola, who played 17 times for his country, complained in his autobiography: "Houllier blamed me for 'murdering' France's bid to qualify for the 1994 World Cup finals.
"My 'crime' was to over-hit a cross aimed for Eric Cantona during our last qualifying match against Bulgaria in Paris."
Houllier later resigned and recalled: "The adventure is over all too soon. With only 30 seconds remaining we were there but we got stabbed in the back and at the worst possible time.
"The referee still had his whistle to his mouth when Ginola won that free-kick near the corner flag, but then he goes and sends in a huge 60-metre cross instead of hanging on to the ball. That allowed Bulgaria to go and hit us on the counter."
In contributing to a new book on coaching, Houllier, 64, again refers to the 1993 qualifying failure - and Ginola alleges that disparaging remarks and an offensive term in the publication have left him with little choice but to pursue legal action.
Ginola's representatives told the BBC: "To use those words, and to have them in a book that is meant to sell and to sell heavily, this was a very heavy quote."
Florian Sanchez, editor of the book, which was written by journalists David Riolo and Christoph Paillet and published in France on 20 October, told the BBC: "For legal reasons I cannot comment on the case."
However, Sanchez confirmed that Houllier's comments regarding Ginola do concern the winger's performance against Bulgaria - and also his alleged role in a split in the French squad between players from Paris Saint-Germain and Marseille. Ginola played for PSG at the time.
Sanchez added: "Two years ago, Houllier criticised Ginola on French television. David showed him the yellow card then, and warned him not to continue. Now he is showing him the red."
The first court date, which Ginola is not expected to attend, is scheduled for 12 December in Toulon.