Paul Tisdale hails David Noble's FA Cup equaliser
Last updated on .From the section Football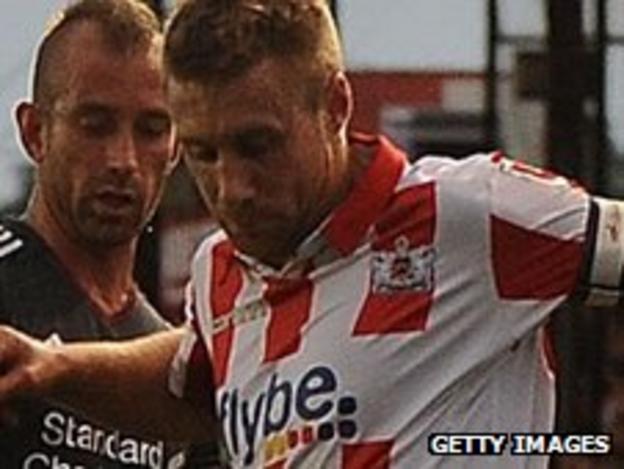 Exeter City boss Paul Tisdale praised the nerve of midfielder David Noble after his dramatic late equaliser against Walsall in the FA Cup.
Noble's long-range effort with just seconds remaining ensured City came away with a 1-1 draw and a replay.
"I don't think there was a player in our side that would have taken that shot on after the 15 minutes he'd had previous to that," Tisdale said.
"I'm so pleased for him and pleased for everyone that was rooting for Exeter."
Tisdale added to BBC Radio Devon: "His game went messy for 15 minutes and he made a lot of misplaced passes.
"But the nerve he had to take on that shot because you know what's going to happen if he puts that over the bar or he misses the target.
"There's 10 seconds to go, you know the groans that are going to come, but he took the shot on and he kept it on the floor and it was a fantastic strike."
Tisdale felt that his side coped well against Walsall, who they beat in the league last month at the Bescot Stadium.
"I thought we were excellent in the first half, really, really excellent," he added.
"We lost our way a little bit in the second half just through the players being so determined to win. They just almost overdid things and tried too hard."