Trapattoni wants to lead Republic of Ireland's World Cup campaign
Last updated on .From the section Football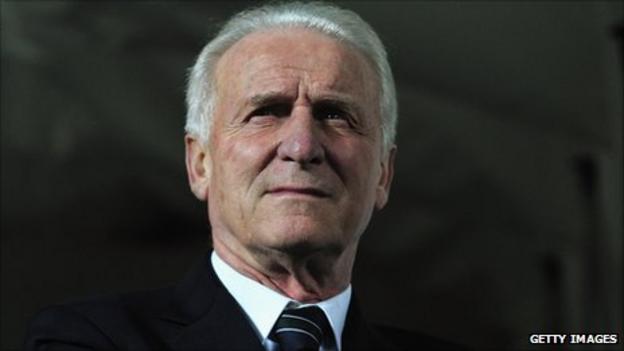 Republic of Ireland boss Giovanni Trapattoni wants to stay on for the 2014 World Cup qualifying campaign.
"We can repeat our performance in qualification towards the World Cup in Brazil," said the 72-year-old.
"Now we have a strong, young team. I would be disappointed or upset if I had to leave," added the Italian.
"When we change these senior players, I am sure we have options who are very, very strong."
Trapattoni has led something of a nomadic existence in a managerial career that has brought him league titles in four countries.
However, he is confident he has established a firm foundation with Ireland and is keen to build upon it.
"Our team is a good team. We play good football," he said.
"Maybe we do not have super-creative players, but we have very, very good players, modern players, quick players and a balance between defenders and attackers."
Trapattoni is likely to be offered a new contract by the Football Association of Ireland (FAI) but he is also likely to be asked to take a pay cut from his current salary, rumoured to be 1.7m euros (£1.45m).
Even so, it will be a surprise if he is not able to agree terms with FAI chief executive John Delaney.
Damien Duff is a fitness doubt for Tuesday's return leg at the Aviva Stadium after sustaining a bruised rib in a collision with team-mate Glenn Whelan in Friday's game.
However, John O'Shea is expected to be available to return to defence after injury while Kevin Doyle is also in contention after being suspended for the Tallinn game.
Leon Best, who missed the Tallinn contest, was assessed by the Irish medical staff on Saturday and has been allowed to return to his club Newcastle United for further treatment.