Cesc Fabregas unhappy with 'defensive' England
Last updated on .From the section Football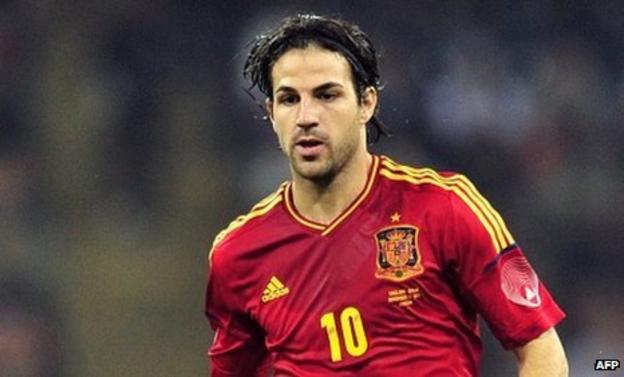 Spain midfielder Cesc Fabregas says he was not impressed by England's "negative tactics" following his side's 1-0 defeat at Wembley.
"Even when they were winning, they had Danny Welbeck up front and everyone else defending," said Fabregas, now at Barcelona after eight years at Arsenal.
"We knew after we saw England's starting line-up that they were going to defend basically the whole game.
"But this is the way they want to play and it worked," he added.
Frank Lampard's header gave England victory but Fabregas insisted Spain had "dominated" the match, adding: "We made England defend nearly the whole 90 minutes. You want teams to have a go at you and test you and see what happens.
"We saw two completely different styles of football. The more defensive one won but we know that the only way they could score was from a free-kick or a corner and we conceded a not very intelligent free-kick. We paid for it but, basically, we are happy because we played very well."
The defeat was Spain's fourth in eight friendlies since they won the World Cup last year, but Fabregas insists they will still be the team to beat in Poland and Ukraine next summer, when they attempt to defend their European title.
"We always suffer a little bit more in friendly games and we change a lot of players and it's completely different," said the 24-year-old, who joined Barca from Arsenal in the summer. "You cannot compare the [defeat by England] with important games like the Euros."