Celtic get date for Uefa chants hearing
Last updated on .From the section Football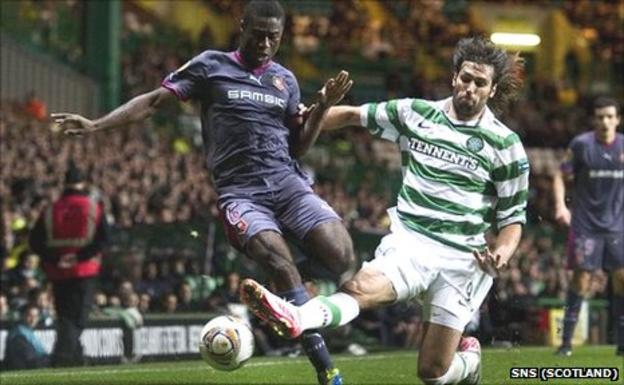 Celtic will face disciplinary proceedings from Uefa on 8 December over "illicit chanting" during their Europa League tie against Rennes.
European football's governing body will hold the hearing on alleged offensive singing at the match played at Celtic Park on 3 November.
The Strathclyde Police match commander notified the Uefa delegate about offensive chants made by some fans.
Celtic are seeking clarification on the matter from the police and Uefa.
"We have been made aware of this hearing in a letter from Uefa," said a Celtic spokesperson. "We have not been given any detail on the nature of the alleged incidents and have not received any information on this matter directly from the police.
"Celtic supporters have a magnificent record of positive support for their team, something recognised by both Uefa and Fifa in recent years and we are extremely proud of this reputation.
"Therefore, the club will co-operate fully with any Uefa investigation."
The claims are believed to centre on songs about the IRA.
And a Uefa spokesman has confirmed that the organisation's control and disciplinary body will examine a charge of "an incident of an unsporting nature, namely illicit chanting".
A police spokesman said at the weekend: "There were a number of instances during the game of singing offensive songs and inquiries are ongoing to detect the offenders."
At Celtic's annual general meeting last month, chief executive Peter Lawwell urged fans to stop singing pro-IRA chants after being "inundated" with complaints from their own supporters following their 2-0 defeat by Hearts at Tynecastle.
And Lothian and Borders Police announced they had launched an investigation into the "singing of sectarian songs" at that game.
Lawwell said at the club's annual general meeting: "Chants glorifying the Provisional IRA are totally unacceptable.
"It is an embarrassment to the club. We don't want it, we don't need it.
"It is wrong, and it is an embarrassment to the club and an embarrassment to the majority of supporters.
"We were inundated by complaints from our own fans after the game at Tynecastle.
"We have dealt with it at Celtic Park and we will do all we can to make sure it doesn't happen home or away.
"We don't want it, we don't need it. We have the best supporters in the world and hold that reputation dear."
In April, Uefa punished Rangers for two counts of "discriminatory behaviour" when they played PSV Eindhoven.
The sectarian singing meant the Ibrox club's fans were banned from travelling to their next European away game, the club was fined 80,000 euros (£68,000) and Rangers were handed a suspended ban on a second away game and warned they faced playing a home game behind closed doors if found guilty of the same offence within three years.
Uefa had fined Rangers following similar incidents in previous matches against Villarreal and Osasuna.