Liverpool manager Kenny Dalglish unhappy at fixture schedule
Last updated on .From the section Football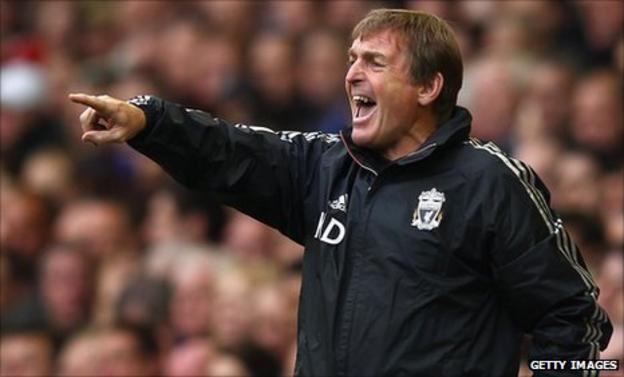 Kenny Dalglish has criticised the scheduling which will see his Liverpool side play two games in 48 hours.
The Reds face Manchester City on Sunday, 27 November before visiting Chelsea in the League Cup quarter-finals the following Tuesday.
"It is disgraceful in this day and age that players are being asked to play a league game and then a quarter-final just 48 hours later," he said.
"If the Football League want to devalue their own competition it's up to them."
Moving the Chelsea encounter to the Wednesday would cause problems for police in London as Tottenham host PAOK Salonika in the Europa League that night.
However, Dalglish believes the Football League should have looked at other possibilities.
"It's understandable with the Spurs v PAOK Salonika match and the TUC rally that the Met Police have said that our game cannot be played on the Wednesday," Dalglish told liverpoolfc.tv.
"But it's surely the duty of the football authorities to think of other solutions which consider the welfare of the players? This clearly hasn't happened."
After appeals to have the match rearranged were refused, Dalglish has taken the unprecedented step to warn off fans from making the trip to Stamford Bridge for the Chelsea encounter as he may field a youth team.
He added: "When we ask the Football League to move our game to a later date, we're told it's impossible. Where's the logic in that?
"The one thing I will say to our fans is to think carefully before buying tickets for the League Cup game.
"We do not want them spending their money and then we decide there is no other option but to use only young players in the tie.
"They [the Football League] shouldn't then be upset if people use these games to help in the development of young players."