PFA chief Gordon Taylor 'disappointed' by Carlos Tevez absence
Last updated on .From the section Football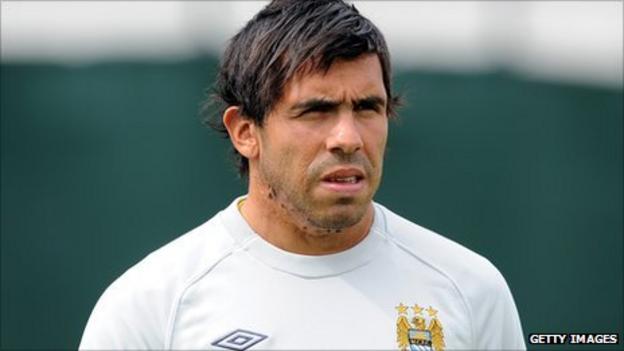 Professional Footballers' Association chief executive Gordon Taylor says he is "very disappointed" at Manchester City's Carlos Tevez for missing training and returning to Argentina.
City have instructed their lawyers to take action, saying striker Tevez, 27, had been refused permission to go home.
Taylor represented Tevez when a previous misconduct fine was halved.
But he told BBC Sport: "He is in danger of burning bridges rather than reconciliation."
City had found the former Manchester United striker guilty of committing five breaches of contract in a Champions League game against Bayern Munich in September.
Manager Roberto Mancini wanted to bring Tevez on as a substitute with 35 minutes left but he refused to warm up.
He was immediately suspended for two weeks and had a four-week fine halved after the intervention of the PFA.
On Tuesday, Tevez confirmed he would not appeal against the fine and City expected him to attend training on Wednesday.
However, he decided to fly home to Argentina, claiming he had spoken to a member of City's backroom staff after failing to contact Mancini.
Tevez says he could not get hold of Mancini, despite leaving several messages before and after arriving in Argentina.
"This now leaves him very vulnerable," added Taylor. "He's diminishing his value by his actions at the moment.
"You just hope that he will soon try to get to a place of reality - otherwise he's on a self-destruct route. It could be a very difficult and complex legal situation.
"Sometimes sorry is the toughest word but it does put an end to difficult situations and stand-offs.
"Manchester City may well have a right to say 'your contract is cancelled and we are keeping your registration' and they could sue Carlos."
Most of City's players are away on international duty but the club say Tevez, who has not played since the 2-0 Carling Cup win over Birmingham in September, was due to remain in Manchester to continue his personal training programme.
The forward was not selected for the Argentina squad for the fixtures against Bolivia and Colombia, to be played in the next week.
After his client was pictured in Argentina, the player's spokesman, Paul McCarthy, told Sky Sports News: "He's gone to see his family.
"We've said all along that Carlos is aware of the situation in terms of getting back to his fitness. I can't really say much more until he's back in the country."