Uefa brings forward Wayne Rooney appeal by one day
Last updated on .From the section Football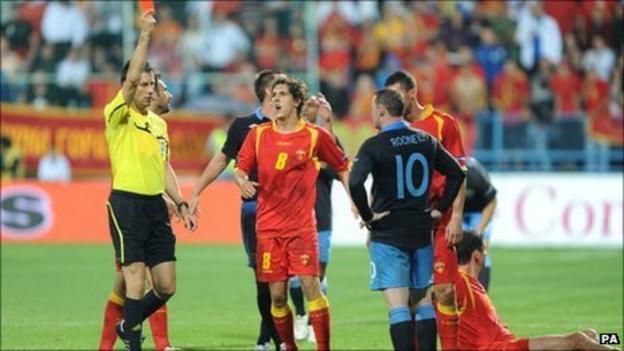 Wayne Rooney's appeal against his three-match ban for the European Championship will now be heard by Uefa on 8 December.
The England striker, 26, received the punishment after being sent off for kicking Miodrag Dzudovic during the 2-2 draw with Montenegro last month.
If the ban is upheld, Rooney will miss all of England's Euro 2012 group matches in Poland or Ukraine.
The hearing has been brought forward by 24 hours for logistical reasons.
Rooney will be in Switzerland with Manchester United for a Champions League match against Basel on December 7 so will stay in the country for the hearing and will be joined by England manager Fabio Capello, who will also be in attendance.
Uefa said in a statement on Tuesday: "The Uefa Appeals Body will deal with the case of England striker Wayne Rooney at Uefa's headquarters in Nyon.
"This follows Uefa's receipt on Friday, 4 November of the official written appeal from the English Football Association against the three-match suspension given to Rooney by the Uefa Control and Disciplinary Body on 13 October."
A Uefa spokesman told BBC Sport that there is a risk that following the appeal, Rooney's ban could be extended to four games. But he also said it could be reduced, or even remain at three games.
Rooney has admitted the kick was "stupid" but that the ban was "a bit harsh". The Manchester United striker added: "It will be a bonus if it is cut by one game."
The FA's appeal has included a written letter by Montenegrin Dzudovic pleading that the ban is reduced.
Rooney has scored 28 goals in 73 appearances for England and was not included in the friendly win over Spain on Saturday and will not feature in the game against Sweden on Tuesday.
But England boss Fabio Capello has said his most prolific forward would appear in subsequent friendlies in the new year, one of them likely to be against the Netherlands.