Swansea's Brendan Rodgers touched by Kenny Dalglish's congratulations
Last updated on .From the section Football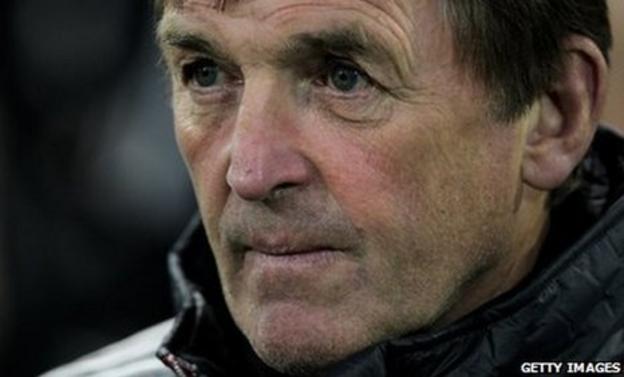 Brendan Rodgers says he was "honoured" by the congratulations Swansea received from Liverpool boss Kenny Dalglish after their Premier League promotion.
As the Swans prepare to travel to Anfield on Saturday, Rodgers said he still treasures Dalglish's letter.
"I was very honoured to receive that from such a great man and a wonderful player," he said.
"It was a fantastic gesture - we received a number of those but this was the first to come through.
"It shows you why they are respected worldwide. It's those class moments and acts that go a long way.
"Kenny's come in and reignited the whole club - and because of that association that he's had his impact has been fantastic.
"I liken the way the club is run and their supporters to our own.
"They're both sets of supporters who understand the traditions of their club and the good footballing principles."
Liverpool are unbeaten at home in the Premier League this season, while Swansea have secured only one point on the road.
But Rodgers believes Swansea can do well at Anfield, citing the draws achieved by Sunderland and Norwich as examples.
"We understand no matter what ground it is this season that every game is going to be difficult away from home," said Rodgers.
"We go there really looking forward to the game and we feel our game is progressing and we're getting success in particular at home.
"But we want to turn some good performances on the road into points.
"But you know when you go to the big teams you also need that little bit of luck.
"If we can get that and perform like we can then we want to give ourselves an opportunity."
Midfielder Mark Gower is currently holding talks with the club over a new contract and Rodgers says the former Southend player thoroughly deserves a new deal.
"He deserves it, discussions have been ongoing and I am sure that they will be completed soon," said Rodgers of the 33-year-old.
"Mark has been brilliant since I've been here, he showed his worth last season and has been exceptional when he has come into the team this season.
"He gives his all every single day and is a player I wanted to ensure we did retain."