Blackburn stop fans displaying anti-Steve Kean banners
Last updated on .From the section Football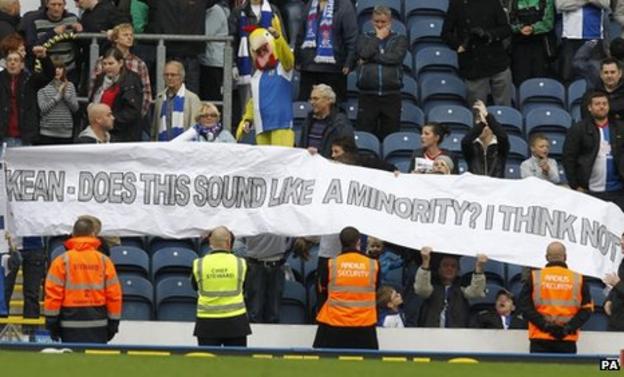 Blackburn fans will not be allowed to display banners calling for the removal of manager Steve Kean before and during Saturday's home match against Chelsea.
This would be the fourth successive protest at Ewood Park, with the club concerned there may be a counter-protest.
"If any banners are displayed they will be removed and not returned," Rovers told protest organisers in an email.
The supporters will be permitted to protest after the match with banners.
Blackburn are 18th in the league and Glen Mullen, one of the protest's organisers, said in a statement: "Not being able to have banners is a blow but we take health and safety very seriously.
"The protest group's conduct has been exemplary throughout the last couple of months and we wish all our demonstrations to be peaceful with clear messages.
"Although disappointed, we respect the club's decision to impose a banner ban in the interest of public safety."
Manager Kean has managed only six wins in 31 league matches and one victory this season.