Maidenhead United celebrate 140-year FA Cup landmark
Last updated on .From the section Football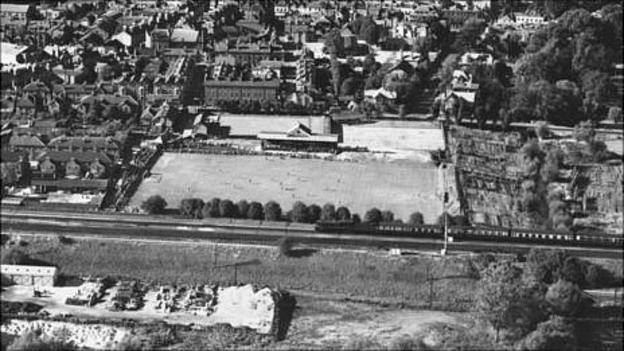 English football this week celebrates the 140-year anniversary of the world's greatest domestic competition, and on Saturday the FA Cup returns to the scene of one of its first venues - York Road, Maidenhead.
Maidenhead won 2-0 on that day in 1871, and chairman Peter Griffin says the club are proud of their place in FA Cup history.
"This is a club packed with history and tradition and it is great being a part of it," Griffin told BBC Sport.
"As chairman of the club you are aware of the history and that you have a responsibility to leave it in good shape. The record is a great source of pride for the club."
The competition has taken many twists and turns over the past 140 years, with its interest having seemingly dwindled among the so-called 'big' clubs in the Premier League.
Its demise perhaps began after Manchester United's decision not to play in the 1999-2000 competition because of their Club World Championship commitments, and falling crowds and weakened teams have further diminished English football's blue riband event.
But Maidenhead manager Johnson Hippolyte, who played for Aldershot, says that while interest may be waning in the top flight, it is at non-league level where the passion for the competition is still as great.
"Being in the FA Cup is just a wonderful experience, especially when you get a chance to pit yourself against a league club," Hippolyte told BBC Sport.
"It is just so special, it's such a nice feeling and there is just a wonderful buzz around the club right now."
In a world of modern stadia, Maidenhead's York Road is a throw back to a bygone era and they are a club desperate not to lose their identity.
The stadium is at the heart and soul of that identity and there are constant reminders of their past and present in the club's boardroom, with photos and memorabilia dating back to its inception in 1870.
And Griffin says the FA Cup means so much to the club and town.
"Around Maidenhead everyone is talking about it," added Griffin.
"I laugh when I read comments about the FA Cup not being the competition it used to be. That may well be the case for clubs involved in the Champions League but for non-league sides you cannot believe how much it means to us."
Aldershot, who themselves have been in the news recently for their exploits in the League Cup, are the visitors on Saturday and it is a fixture that has real local spice.
Both Griffin and Hippolyte admitted to being "disappointed" and "baffled" at the decision not to show the game on television but insist the club will enjoy their big day nonetheless.
And Hippolyte, who managed Yeading to the third round in 2005, is confident his side can produce an upset.
"I will put money on the fact there will be an upset this weekend, so why not us?" he said.
FA Cup fever has gripped Maidenhead since the draw was made and York Road will be packed to the rafters for the game.
Their first FA Cup match 140 years ago ended in victory, and if lady luck has her way, the non-league side will celebrate their anniversary with a place in the hat for the second round.