John Terry to face police investigation over race allegations
Last updated on .From the section Football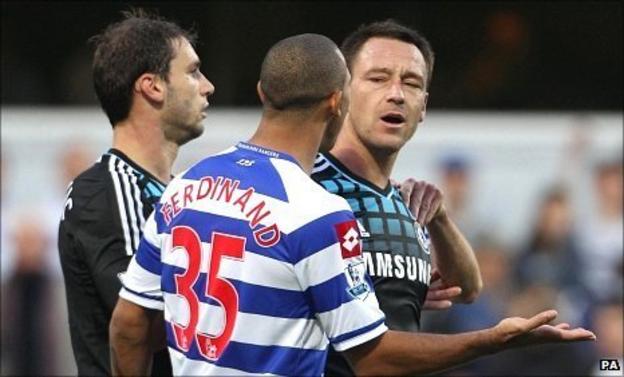 The Metropolitan Police has begun a formal investigation into allegations that Chelsea captain John Terry racially abused QPR's Anton Ferdinand.
The Police spent a week "assessing" a complaint from a member of the public before announcing an investigation.
The Football Association (FA) is also looking into the incident.
Some viewers claimed video replays from the match at Loftus Road showed Terry using racist language, while the FA said it had received a complaint.
A Metropolitan Police statement said: "Police were notified of an incident on Sunday, October 23 involving alleged racial abuse. This is currently being investigated by officers from Hammersmith and Fulham."
On Monday, Ferdinand gave a statement to the FA saying he has "very strong" feelings on the matter, but will not elaborate until the FA inquiry has been concluded.
The move means the FA's investigation into the allegation cannot be completed until the outcome of the police investigation.
An FA statement read: "Further to an allegation from the recent QPR versus Chelsea fixture, The Football Association has been formally investigating the matter.
"The Metropolitan Police has contacted The FA to make us further aware of their investigation into the matter.
"Due to this it would be inappropriate for The FA to comment until the Police have completed their own enquiries.
"Therefore, The FA will make no further comment at this time."
Chelsea manager Andre Villas-Boas earlier stated that a post-match conversation between Terry and Ferdinand had marked "the end of the story".
In a statement following the Blues' loss at Loftus Road, Terry described the incident as a "misunderstanding" and claimed that his accusers "have leapt to the wrong conclusions about the context of what I was seen to be saying".
He added: "I would never say such a thing - and I'm saddened that people would think so."
Terry was selected as a substitute for Chelsea's Champions League match at Genk on Tuesday.