Cardiff 'wanted to help' ex-player Michael Chopra with addiction
Last updated on .From the section Football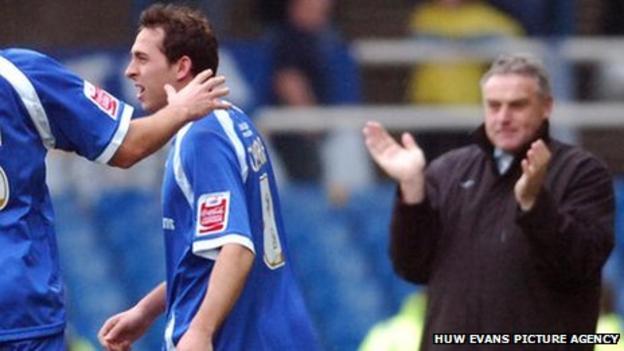 Ex-Cardiff City manager Dave Jones hopes that Michael Chopra's decision to go public about his gambling addiction means he is on the road to recovery.
Jones signed the Ipswich striker twice during his time in charge of Cardiff and says Chopra's personal problems were an ever-present concern.
"I knew everything about what Chops was up to," Jones told BBC Sport Wales.
"The only thing we never really knew was the amount, but whatever he told us we just tripled anyway."
Chopra, 27, says he was gambling as much as £20,000 a day and that his £5m transfer from Cardiff to Sunderland in 2007 was motivated by his desire to collect a signing-on fee to pay off gambling arrears.
But Jones says the move was also great business for Championship side Cardiff to get that sum for a player they signed from Newcastle for less than £500,000 in June 2006.
"We got £5m for him so I think it was a desire for the club to sell him," Jones said.
"We can only get the offer off the club [Sunderland], I think Peter [former Cardiff chairman Ridsdale] did a good deal with it.
"We knew all when we signed Chops the first time and second time [and] I'd informed Roy [former Sunderland and Ipswich manager Keane] of his addiction and also I'd informed [current Ipswich boss] Paul Jewell of the addiction as well.
"Part and parcel of the reason why he didn't play at the back end of the season that I was there was because of the gambling and we thought that it was affecting him, because he was a shadow of himself really.
"We had an idea how much he was in for and we tried to help him as much as we possibly could.
"We tried to get him to see people but it's like any addiction that you have, that people have to do it themselves.
"We lined up lots of people for him to see, spoke to him basically nearly every day on the situation because there was always something else coming up.
"I'm pleased that he's now tried to address it but he's on a long road and I wish him all the very best."
Chopra has also admitted to playing with injuries in the past in order to collect his appearance fee, although Jones doubts whether he would have been able to take the field with a serious problem.
"The playing through injury I'm not totally convinced about," Jones added.
"If he can play with an injury then all well and good but... that might just be a little smoke screen if he wasn't playing well.
"Chops never played when he couldn't run... so whatever injury he did have and he could go out onto the pitch, then you go out onto the pitch.
"If he's saying that he just played because he was trying to pay of his debts, I think that isn't all the truth.
"Chops was quite a clever lad and if he had an injury he would have played anyway.
"The rest of it I knew all about... I did [help with the addiction] as much as I possibly could but there comes a point, as there was with Jeff Whitley, where you have to pull the plug."