Bosman lawyer to take Sion case against Uefa to EU
Last updated on .From the section Football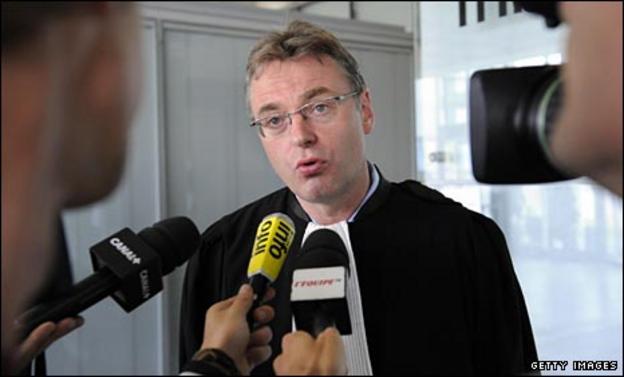 Sion have filed a complaint against Uefa with the European Commission and have hired the lawyer who won a famous case for Jean-Marc Bosman.
The Swiss club were thrown out of the Europa League, with Celtic their replacement, after it was ruled that they fielded ineligible players.
They have failed to win reinstatement despite going through Swiss courts.
And they will be represented by Jean Louis Dupont as they continue their battle with the European football body.
Belgian player Bosman's case against his club, FC Liege, who had refused his switch to Dunkirk, forced a revolution in the transfer system that gave footballers greater freedom of contract.
The European Community's court found in Bosman's favour as it ruled that Uefa's rules contradicted an EU treaty on the free movement of people.
Now the governing body has rejected numerous attempts by Sion to regain their place in the Europa League via the Swiss civil court in the canton of Vaud.
Uefa insists that the Court of Arbitration for Sport (Cas) is the only authority with jurisdiction over the matter and a hearing has been set for 24 November.
But Sion president Christian Constantin said in a statement on the club's website: "Two Swiss courts have already ruled in our favour, but Uefa continue to openly violate both court decisions and insist that the Cas have the final word.
"Therefore, as others before us, we were compelled to bring this matter before EU justice."
Sion's complaint, which was filed jointly with some of its players, claims Uefa contravened rules including the "right of access to an independent and impartial judge", unjustified restriction of competition and the free movement of workers under the EU-Swiss treaty.
Constantin's club are calling for Uefa to be fined up to 10% of their annual turnover for "a flagrant and deliberate violation of formal commitments entered into in 2001".
Sion's action comes days after Uefa invited the club to a consultation meeting to consider their possible re-integration into the Europa League.
Uefa has already held talks with Celtic and the other clubs in Group I over the effects on fixtures should the Swiss club be reinstated.
The governing body had already made contingency plans for Sion's readmission.
Its first option would annul the group fixtures already played between Celtic, Udinese, Atletico Madrid and Rennes and start a new five-team group with teams playing each other once.
The second option would result in Sion joining Group I as it stands and playing each team home and away.
Uefa also raised the possibility of Sion moving directly into the last 32 following an undefined play-off.