Cleland not giving up hope of St Johnstone job
Last updated on .From the section Football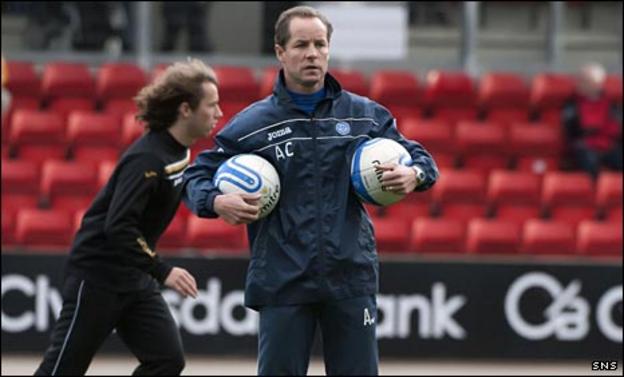 Caretaker Alec Cleland insists his chances of becoming St Johnstone's permanent manager will not be hampered by the 1-0 home defeat by St Mirren.
"It's always better to win the game, but I don't think it's going to affect the chairman's decision with us losing the game," said 40-year-old Cleland.
"The chairman is going to take his time over an important decision."
Former Manchester City, West Ham United and Queens Park Rangers midfielder Steve Lomas is believed to have been interviewed on Friday, while chairman Geoff Brown is thought to be wanting talks with two other candidates.
But there was no sign of the 37-year-old, who previously managed Southern League club St Neots Town, at McDiarmid Park on Saturday despite speculation that the former Northern Ireland international would be in attendance.
Saints have now gone two games without a win - they drew 0-0 with Dundee United last weekend - following the , but Cleland insists there are no grounds for concern.
"It is a big, big decision and it's not as if we are in a crisis," said the youth coach, who is being assisted by midfielder Jody Morris.
"We're lying fourth in the league, we're doing well, the boys have responded well to myself and Jodie's training.
"When Geoff makes appointments, it's usually the right appointment.
"It's a job that interests me, I enjoy doing it and I am enjoying working with Jody.
"Day-to-day, I speak to the vice-chairman and he keeps me updated on what's happening. That's as far as it's gone.
"It's not my style to bang on the chairman's door and say 'give me the job'. That's not my style at all.
"It has been a good experience so far and would have been a lot better if we got the victory."
Cleland admitted that Saints had found St Mirren's system of play difficult to come to terms with in both their meetings this season - the sides drew 0-0 in Paisley last month.
"We were just a bit unfortunate," said the former Dundee United, Rangers and Everton defender who had a previous spell as caretaker of Livingston.
"I thought it was heading for another goalless draw, but St Mirren got the goal at the vital time and held out."
Cleland does not think the players should be affected by the uncertainty over the manager's position.
"They certainly haven't shown that in training," he added.
"I don't think it has affected them and it shouldn't affect them."
Defender Callum Davidson admits he does not care who lands the manager's job as long as an appointment is made soon.
"What the players want is for somebody to be in charge, whether it's Alec or someone else," he said. "They just want it done.
"I would rather have somebody in pretty soon. For me, we have struggled in the last couple of games."
Davidson knows candidate Lomas from his time in English football.
"I played against Steve a long time ago and I know him," he added.
"He would be hungry for the opportunity, but I think everyone the chairman interviews will probably be hungry for the opportunity as well."