Harry Redknapp backs Neil Warnock for England manager job
Last updated on .From the section Football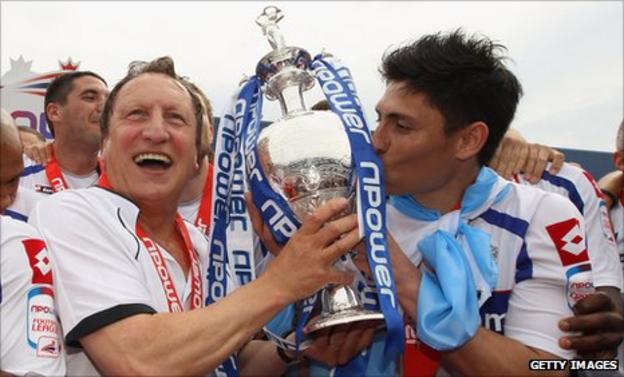 Neil Warnock should be a serious contender to become the next England manager, according to Harry Redknapp.
"I don't think he gets the recognition he deserves," the Tottenham boss said of his Queens Park Rangers counterpart.
"He understands good players, knows how to put a good team together and knows players who will do a good job for him.
"I'm sure he could do the [England] job," Redknapp added as he prepared his side to face QPR in the Premier League at White Hart Lane on Sunday.
Many bookmakers regard Redknapp as favourite to succeed Fabio Capello after next summer's European Championship in Poland and Ukraine.
But Redknapp thinks Warnock, 62, could do well for the national side after his exploits at Loftus Road and a host of other clubs during a long managerial career.
Warnock took over as QPR manager in March 2010 and steered them away from the Championship relegation zone before guiding the west London side to promotion the following season.
Backed by the money of new co-owner Tony Fernandes, he has led Rangers to 10th in the Premier League this year after a series of impressive results - the latest being last week's 1-0 derby win over Chelsea.
Redknapp said: "If you have good players you have a chance. Neil has done fantastically. To walk in there and take them up in his first full season takes some doing.
"People think it's easy but they've all been trying and no-one got near it. Suddenly he walks in and up they go."
And the Spurs manager does not think Warnock's abrasive character should prevent him from being seriously considered for the England job, with which Roy Hodgson, Martin O'Neill and Jose Mourinho have also been linked.