Norwich City boss Paul Lambert wary of future failure
Last updated on .From the section Football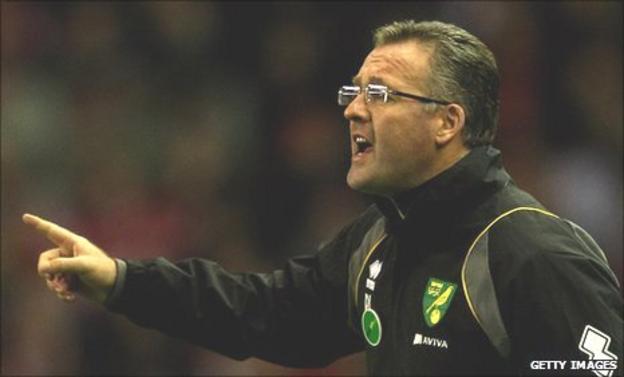 Norwich City boss Paul Lambert has said his previous success at Carrow Road would have meant nothing had his side made a poor start to the campaign.
The Scot has expressed his disgust at the treatment of under-pressure bosses Steve Kean and Mick McCarthy, at Blackburn and Wolves respectively.
And he is aware that in the future he could come under fire in the same way.
He told BBC Radio Norfolk: "It will happen to me one day, that's the nature of the beast if you don't get results."
Lambert, who led the Canaries to the Premier League through back-to-back promotions, added: "I'm pretty sure the last two seasons would have counted for nothing if we had lost the first nine games - then it would be my turn."
But City have made an impressive start to life in the top flight, taking 12 points from nine games to sit eighth in the table.
However McCarthy and Kean, who takes Rovers to Carrow Road on Saturday, find their sides at the wrong end of the table and have been by sections of supporters.
"People tend to forget what's happened years gone by. That level of criticism doesn't help a team, the players or the guy getting abused by it," said Lambert.
"They'll give a manager stick for 90 minutes, go home to their wives, their wives will give them stick and they'll be quiet as a mouse.
"It's not nice when you hear that and you see banners on the television saying get him out, it's wrong
"Nobody likes to be criticised but the nature of the game is that people jump on your back pretty quick."