Cardiff City manager Malky Mackay cool on Olympic football
Last updated on .From the section Football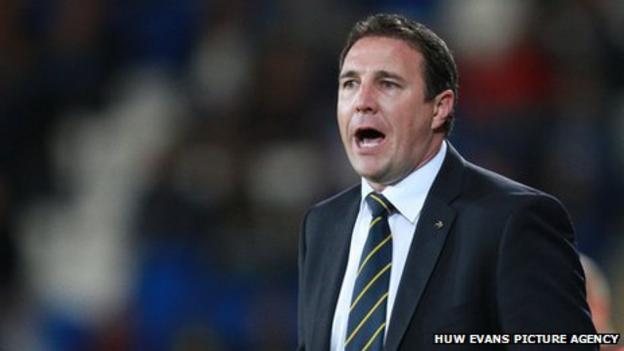 Cardiff boss Malky Mackay says he does not want his players involved in the Great Britain football team at the 2012 London Olympics.
Mackay believes the Olympic football would affect pre-season preparations.
The tournament runs until 11 August, a week before the Championship season is due to begin.
"Any more football is something I don't want. I want them here. I want them fit and ready to play for Cardiff City," he said.
"I suppose to play in an Olympics is not a bad thing, but I think there are so many logistical problems concerning the type of team that would be put out.
"Whether that changes Uefa-Fifa's thoughts on the home nations in terms of whether they become one team or not. I think there's a lot of politics involved as well.
"Obviously I want my players fit and ready to go for the start of the season. If that impairs or overlaps it then no [to wanting my players involved] is the answer to that.
"Because at the moment we have got these internationals breaks where the players go away. We try and protect them as much as possible and the international managers are very respectful of that."
It is likely Mackay will not be too affected by play call-ups but his opinion is bound to resonate with higher profile managers who are likely to have players inmvolved.
The likes of Joe Allen and Gareth Bale, who have both indicated a desire to play for Team GB, would be likely members of manager Stuart Pearce's squad.
But Cardiff City striker Rob Earnshaw says players must put the future of the Wales football team ahead of playing for Great Britain at the 2012 Olympics.
Great Britain will be competing at the men's Olympic football competition for the first time since the Rome Games in 1960.
Ever since the decision was made, the football associations of Wales, Scotland and Northern Ireland have expressed their opposition to the formation of a GB team fearing it will affect their long-term independence.
And although Mackay does not like the idea, Swansea City manager Brendan Rodgers said he would encourage 21-year-old Allen to play at the Olympics.
"In relation to the [home nations football] federations they'll have whatever agendas or whatever ideas they have for not allowing the players [to compete]," said Northern Ireland-born Rodgers.
"But certainly from my own perspective I think it's fantastic that we can get a team in there and if there's a good balance and top players in the team then fantastic, it'll be a great experience for them."