Manchester City forced to halve Carlos Tevez's four-week fine
Last updated on .From the section Football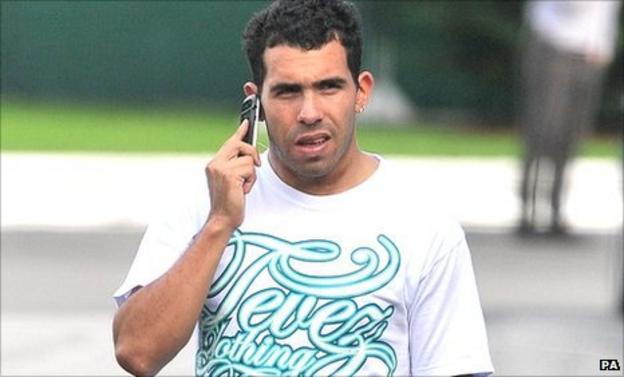 Manchester City have cut Carlos Tevez's penalty to two weeks' wages after the Professional Footballers' Association (PFA) refused to back a four-week fine.
But the PFA backs Tevez's claim that he merely refused to warm up and said a two-week fine is the maximum allowed.
City accused the PFA of a "conflict of interest" in its handling of the case.
A City statement said: "Manchester City is disappointed by the apparent PFA conflict of interest evident in this process.
"Carlos Tevez has been personally represented throughout by the PFA chief executive [Gordon Taylor], on whose considerations the club has been informed that the PFA has made its decision.
"Manchester City has been in constant dialogue with the PFA since 28 September. Today's PFA decision is a departure from the club's understanding of that dialogue.
"Without recourse to the PFA decision available, the maximum two-week fine provided for in standard player contracts will now be applied in relation to the misconduct of Carlos Tevez."
Taylor, who denies any conflict of interest, issued a statement earlier on Thursday in which the PFA insisted there was "no justification" for a fine of four weeks' wages, which is understood to amount to about £1m.
"The PFA's opinion, based on all the evidence presented, is that Carlos Tevez never refused to play for the club," said the PFA.
"This is accepted by the club in that the charge against Carlos made at the hearing was not one of refusing to play.
"As such the PFA considers that there is no justification for a fine other than up to the prescribed sanction of two weeks' wages agreed by the FA, the Premier League and PFA."
Manchester United boss Sir Alex Ferguson admits he is perplexed by the agreed rules but feels they must be adhered to.
"I think it is a bit strange of course but the regulations are there," Ferguson said. "It is a fact that the maximum fine you can give a player is two weeks' wages.
"It seems a bit crazy in this particular situation but it's there and there's nothing you can do about it."
City found the Argentine striker guilty of five breaches of contract in a Champions League game against Bayern Munich in September, including a breach of "an obligation to participate in any matches in which the player is selected to play for the club when directed by a club official".
Tevez insists he only refused to warm up and his advisors have told the BBC they believe that none of the five reasons given by City for upholding the charge of misconduct - which the club published on their website - are correct.
Taylor told BBC Sport: "If he had refused to play that would have been the charge and that would be gross misconduct.
"The charge was momentarily refusing to resume warming up. He never refused to play. He was desperate to play.
"They are trying to portray he refused to play, which is serious and why he was vilified. No evidence that they presented suggested that.
"If the evidence was strong and irrefutable, that's gross misconduct, as serious as it gets and could be a termination of contract.
"That's not the case. The evidence doesn't suggest that and that's why the charge was not of gross misconduct."
City have been further advised that manager Roberto Mancini's post-match comments, in which he claimed Tevez had refused to play, could amount to defamation of character and that legal action against him could be forthcoming.
Tevez had 14 days to appeal against the misconduct charge and is understood to be considering his legal options.