Eq Guinea 'almost ready' for 2012
By Matthew Kenyon
BBC Sport, Malabo
Last updated on .From the section Football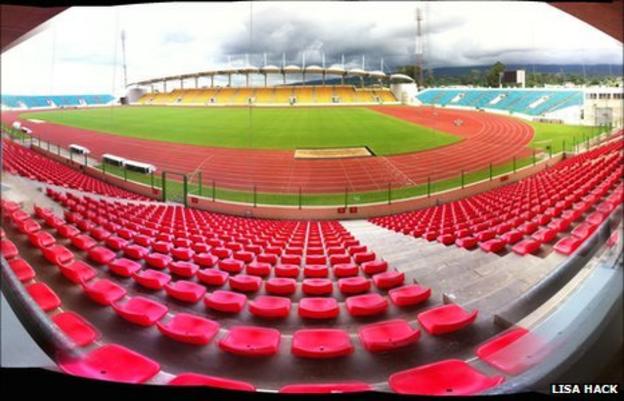 Venues for the 2012 Africa Cup of Nations in Equatorial Guinea are "almost ready", according to the local organising committee Cocan.
The Confederation of African Football (Caf) is inspecting facilities ahead of Saturday's tournament draw in Malabo.
The Caf team has completed its visit to co-hosts Gabon and arrives in Malabo on Wednesday, having been to Bata on the Equatorial Guinea mainland beforehand.
"All the venues are almost ready," said Cocan spokesman David Monsuy.
"One training pitch still needs to be completed in Malabo - it is half-finished at the moment, and so is the one in Bata - but everything has to be finished before December.
"I cannot speak for [Caf] and say if they will be happy or not after their latest inspection but I can say that we try to meet their requests for organising the tournament," Monsuy told BBC Sport.
"They asked us to change the press area and the changing rooms, to make them larger, and as you can see, we are working on it. We hope that by December, everything will be ready."
A new stadium has been built in Bata, which will host the opening game of the tournament on 21 January.
The venue in Malabo will be the one which was built when Equatorial Guinea hosted the Women's Nations Cup in 2008, even though it only has a capacity of 15000 - some way short of Caf's usual minimum.
Monsuy admitted that work still had to be done to promote the Nations Cup within the country.
"For the moment you can't say that the population is really aware that a great sporting event is going to take place in the country," he said.
"We have to address that question, but after the draw [on Saturday] people will realise that the Cup of Nations is round the corner."
He said two promotional campaigns had been launched - one aimed at locals and the other aimed at an international audience.
Malabo and Bata are the two host cities in Equatorial Guinea while in Gabon, the tournament will take place in Franceville and Libreville - which will stage the final on 12 Fenruary.