Michel Platini defends Court of Arbitration for Sport
Last updated on .From the section Football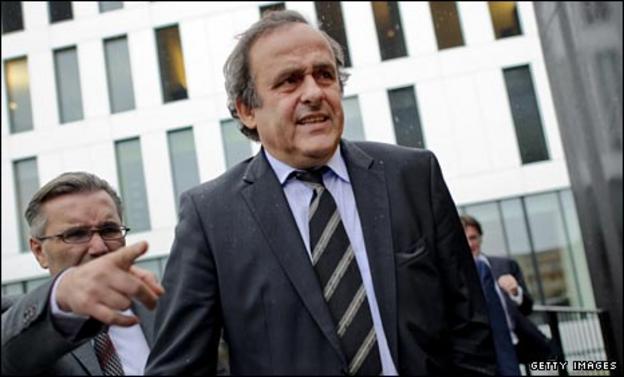 Uefa president Michel Platini has defended the Court of Arbitration for Sport's (Cas) role in football.
Cas has set a date of 24 November for its hearing into the dispute between Uefa and Swiss club Sion.
Sion were excluded from the Europa League for fielding an ineligible player, with Celtic reinstated.
And Platini said: "If you receive a red card and go to a judge as you cannot play in the next match - and the judge says you are right - what can we do?"
He added: "Everything must depend on the Cas."
Sion have responded to their exclusion from the Europa League by mounting a campaign through the civil court in the Swiss canton of Vaud.
Sion were thrown out of the Europa League on 2 September after being found guilty of fielding ineligible players in their play-off match against Celtic, who were installed in the group stage in their place.
Uefa has since rejected numerous attempts by the club to regain their place via the Swiss civil court in the Canton of Vaud, insisting the Cas is the only authority with jurisdiction over the matter.
Platini is adamant such an approach cannot be allowed in football.
He told French broadcaster RTL: "Today, we have in principle an independent disciplinary process in the federations, in Uefa, in Fifa.
"If nobody respects its decisions and goes before civil courts, now that justice today moves slowly, I ask myself how this could happen.
"What do we do if a club relegated to the second division go to a court because they have a first division budget and want to stay there?"
The 24 November hearing date is subject to all parties' availability.
A statement on Uefa's website read: "Uefa has constantly insisted on the need for a rapid decision on the merits of the case and has therefore already confirmed its availability in an effort to respect all of the dates proposed by the CAS."
Uefa has insisted that Celtic will not be thrown out of the competition even if Sion win their case and has suggested several options, including expanding their qualification group to five teams.