Aston Villa defender Chris Herd wins red card appeal
Last updated on .From the section Football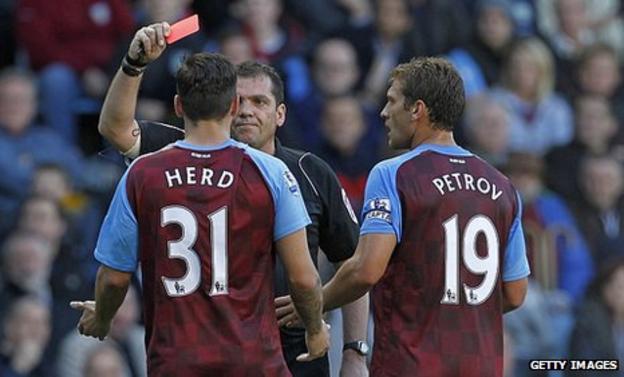 Aston Villa defender Chris Herd has won his appeal against his red card in Saturday's 2-1 defeat by West Bromwich Albion.
As a result the three-match suspension the 22-year-old would have faced for violent conduct has been withdrawn.
Herd was sent off by Phil Dowd after an incident involving Jonas Olsson.
Herd said: "I'm very happy with the decision and I feel vindicated because I was convinced all along I had done nothing wrong."
"My foot was being held by a West Brom player and I was just trying to free it from his grasp. I'm grateful and glad that the appeal committee reached the right decision."
On Monday Villa manager Alex McLeish said: "Looking at the pictures again, Chris has done nothing wrong.
"It's a poor decision on the day by the official. These things are not deliberate, he's made an honest mistake, it's just a shame I think that he's guessed the decision rather than saw anything."
A statement on the Football Association website read: "Aston Villa's Chris Herd has had his claim for wrongful dismissal upheld.
"As a result, the three-match suspension handed to him has been withdrawn. Herd had originally received a red card for violent conduct against West Bromwich Albion at Villa Park on Saturday 22 October."
The Australian Under-20 international will now be available for Villa's match at Sunderland on Saturday.