Mario Balotelli showing maturity, says Manchester City coach David Platt
Last updated on .From the section Football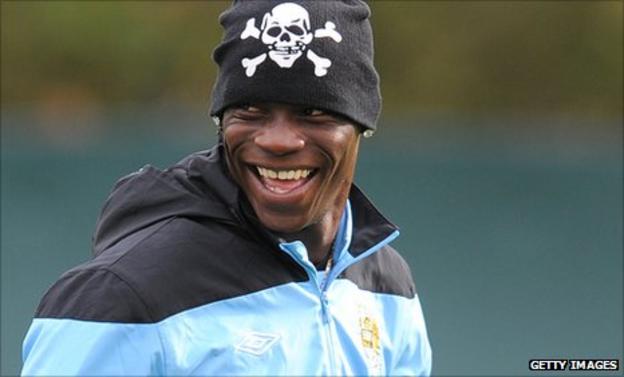 Manchester City coach David Platt reckons controversial striker Mario Balotelli is showing greater maturity.
The Italian has never been far from the headlines since moving to City, picking up two red cards on the pitch and causing controversy away from it.
But Balotelli, 21, has scored six goals in five games including the first two in the 6-1 derby win at rivals United.
"I don't think he is a difficult player to manage. He is not someone who sulks," insisted Platt.
Balotelli had to evacuate his home hours before the derby after a stray firework caused a blaze in his bathroom.
And, in a nod to his headline-grabbing habits, he revealed a shirt with the slogan "Why always me?" after scoring the opening goal in the Old Trafford clash.
But Platt says Balotelli has improved his concentration, which has led to more consistent performances on the pitch.
"People saw his talent but they perhaps saw it in fleeting moments last season," said the former England international.
"His behaviour has always been good but there have been too many ups and downs in terms of his concentration levels. But they [the concentration levels] are there and have been for a good two to three months now.
"He will lose concentration but you can snap him back out of it. He is never down for a week - it is 10 seconds and then he is out of it.
"He is an enigma."
Playmaker David Silva was also outstanding in City's rout of United and has been tipped as an early contender for player of the season but Platt says any such talk is premature.
"He is one exceptional player but it is very early to start talking about players of the year," he said.
"There is a long way to go in the season and there are a lot of very good players who are also doing well.
"But equally I would be very surprised if the consistency of his performances went down because we see it on a daily basis."