Chris Coleman defends Mark Hughes over Fulham criticisms
Last updated on .From the section Football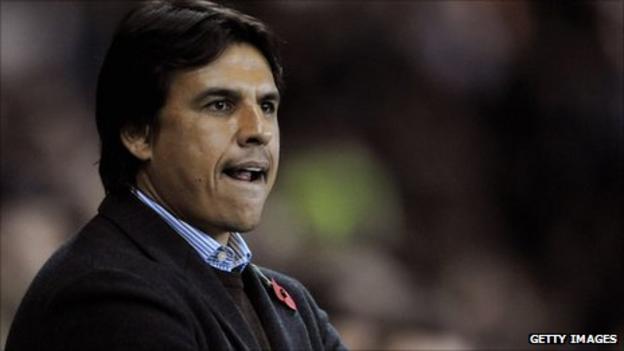 Former Fulham manager Chris Coleman says he has been surprised by Mohamed Al Fayed's "personal attack" on Mark Hughes.
Reacting to criticisms by Hughes that the club lacked ambition, chairman Al Fayed labelled the former manager a "strange man" and a "flop".
But Coleman said: "I saw Mark's comments and I don't think they were intended in a derogatory way.
"He was just saying he was looking for something a bit bigger."
Hughes left Fulham in June after leading the club to an eighth-place Premier League finish in his first season in charge.
The 47-year-old appeared ready to sign an extended contract, but the former Wales manager stunned the club by walking away at short notice, prompting speculation linking him with the vacant manager's job at Aston Villa.
Alex McLeish was eventually appointed by Villa, and Hughes claimed in a newspaper interview that he walked away after being dissatisfied by the level of ambition shown by Al Fayed.
Those claims triggered an angry response from the chairman, who defended his investment at Fulham and said Hughes has "lost his spark".
"If Mark's a flop then we're all in trouble aren't we," added Coleman, who was sacked by Al Fayed in 2007 after four years in charge at Craven Cottage.
"I know Mohamed very well and he's very passionate about Fulham and very protective of them.
"He's been there for over 10 years and he's taken them from nowhere to being a Premier League club, and a club you don't think will get relegated.
"They are a mid-table club and that's no easy feat. Mark was maybe looking for something different, something a bit bigger and I think he's annoyed Mohamed in his comments.
"But knowing Mark I don't think he meant any disregard to Mohamed or to Fulham."
Hughes has now been installed as second favourite by the bookmakers to take over from Sven-Goran Eriksson as Leicester City manager.
Eriksson left the Foxes "by mutual consent" on Monday after an inconsistent start to the season despite spending heavily on players during the summer.
Former Manchester United and Wales midfielder Mickey Thomas doubts whether the job would interest Hughes, but believes former Cardiff City manager Dave Jones would be an ideal replacement.
"I think Leicester would suit Dave Jones for sure, but I think Mark Hughes will be looking at the Premier League," said Thomas.
"I'd like to see Dave Jones back in the game. He's a wonderful manager and I think he was hard done-by by Cardiff.
"He did exceptionally well in the six years he was there."