Gabon 'will be ready' for 2012 Africa Cup of Nations
By Matthew Kenyon
BBC Sport, Libreville
Last updated on .From the section Football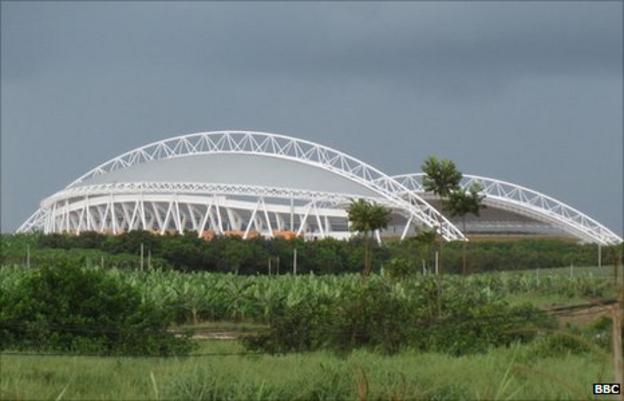 Football officials in Gabon say the country is ready to co-host the 2012 Africa Cup of Nations from January.
The tournament is now less than three months away and the draw for the competition takes place this weekend.
Work is continuing to complete the two new stadiums and training facilities.
"We are on time and at the end of October, all our stadiums will be ready," Gabon organising committee spokesman Louis-Claude Moundzieoud told BBC Sport.
Gabon will be co-hosting Africa's flagship football event with Equatorial Guinea and their contribution to the event is the two stadiums and training facilities.
A new venue has been built on the outskirts of the capital Libreville and another in the south-eastern city of Franceville.
The stadium in Libreville will be unveiled early next month when the national team, the Panthers, play Brazil in a friendly international.
Work is continuing on car parking and other facilities outside the venue, but organisers are confident that the Brazil match will be a good test for the stadium.
Training areas and accommodation for the teams are also being completed and will be inspected by officials from the Confederation of African Football (Caf) this week.
Following the tournament, some of those training facilities are set to be handed over to the Samuel Eto'o Foundation, which is planning on opening a football academy and school in Libreville.
The Cameroon international will not be at the 2012 Nations Cup because the Indomitable Lions failed to qualify, but he is a personal friend of Gabonese President Ali Bongo.
Officials say the stadiums, which have cost millions of dollars to build, will be put to good use after the CAN.
"All the hosting infrastructures and the stadiums will be part of a bigger programme for the country for sport and for events of world class", Marie-Ange Akaga Assuene of Gabon's national works agency said.
But she admitted that action had to be taken to get the developments back on track in the run-up to the tournament.
"We had to work with our constructors to recover the schedule...and to deliver according to what was expected. It's a learning process," she told the BBC.
The draw for the competition takes place in Malabo on Saturday.