Bonetti to take Zambia FA to Fifa
Last updated on .From the section Football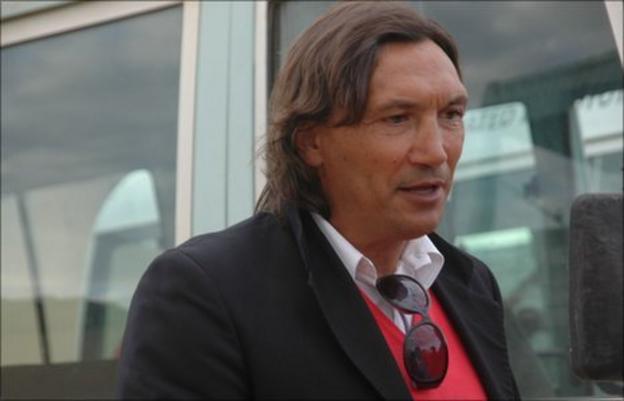 Dario Bonetti says he will be going to Fifa on Monday over what he says is a breach of contract by the Football Association of Zambia (Faz).
The Italian lost his job less than 48 hours after he qualified Zambia to next year's Africa Cup of Nations finals.
He says Faz have not explained his dismissal to him and added he had a contract until July 2012.
Faz president Kalusha Bwalya called the BBC to explain a letter has been sent to Bonetti.
He however refused to comment further on the situation.
"As far as Faz is concerned this case is closed, we want to move on with our new coach Herve Renard," he told BBC Sport.
"It's not in the best interests of Faz to discuss the matter further.
"We wish him well in the future."
Frenchman Renard has been named as Chipolopolo for a second time, signing a one-year contract to replace Bonetti.
Earlier the Italian said that he had not heard anything from Faz.
"I know losing a job can happen in football but I don't like the way it has happened," he said.
"I haven't received a letter officially from Faz, I haven't received anything."
He says Bwalya is the only person to have talked to him so far.
"I haven't met anybody - I only met Kalusha for three minutes when he told me had decided to fire me and nobody else."
"Our lawyer wrote to Faz last week to ask about my contract but no one has answered.
"It's not true that we agreed something."
Faz have been insisting that Bonetti left his post by mutual consent.
Bonetti did however dismiss reports in some media that he had a clause in his contract that he would get an automatic 12 month extension to his deal if he qualified Zambia for the 2012 Nations Cup finals.
"[The clause] Was in our verbal contract but we discovered the FA didn't put it in the contract," he said.
"So we must keep our attention on what was written - we signed a contract for two years and that expires in July 2012."
Bonetti added that he will be holding a final press conference in Lusaka next week to "explain what he thinks about the FA."