World Cup 2014 teams and fans face huge journeys in Brazil
Last updated on .From the section Football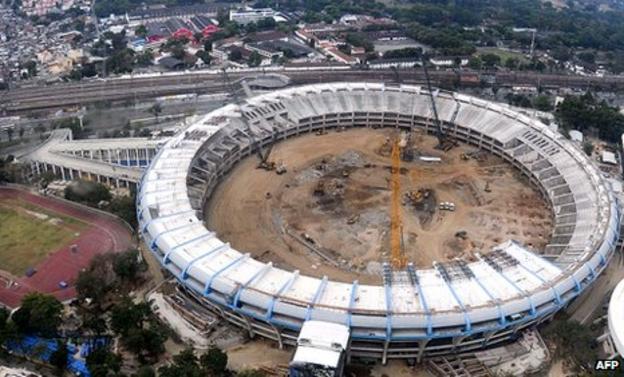 Players and fans face huge journeys around Brazil after 2014 World Cup organisers decided countries must play their group games in different venues.
Some journeys will be up to 2,000 miles after Fifa decided against basing teams in single venues.
And with some matches starting as late as 0200 BST, there will be late nights for supporters watching in Britain.
Group matches will kick off at 1700, 2000, 2300 and 0200, but knockout games will be more suited to European times.
The latest will start at 2100 while the final at Rio de Janeiro's famous Maracana stadium will get under way at 2000 on 13 July.
Fifa secretary general Jerome Valcke said: "The teams will travel around so the host cities will have all the teams, and you can have the best teams, the seeded teams in all the cities."
Now, for example, one team in Group A will have to play the opening match in Sao Paulo, their second 2,000 miles away in Manaus, and the third in Recife - another three-and-a-half-hour flight away, or a 5,700-kilometres road trip through the Amazon jungle.
The decision to move the teams through different areas is so no-one can benefit from the cooler climate in the south of the country.
The opening game takes place on 12 June with the semi-finals being held in Belo Horizonte on 8 July and Sao Paulo on 9 July, with Brasilia staging the third-place play-off on 12 July.
The Maracana is being modernised at an estimated cost of $660m (£420m) but has endured its share of setbacks, the most recent of which was a 19-day strike by workmen.
They were protesting over wage levels, working conditions as well as health benefits but Brazilian president Dilma Rousseff has insisted since the middle of August that work is on schedule.