Clyde investigate move to new stadium in East Kilbride
Last updated on .From the section Football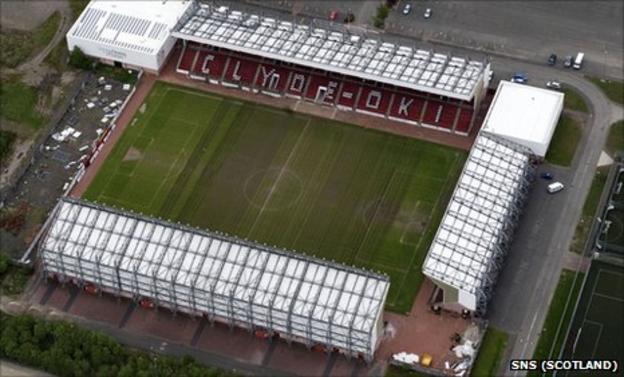 Clyde are in discussions with several parties about the possibility of moving to a new stadium in East Kilbride.
The club hope for "a positive outcome in partnership with East Kilbride Thistle, South Lanarkshire Council and East Kilbride Open Cattle Society".
However, Jamie Hepburn, MSP for Cumbernauld and Kilsyth, wants the club to remain at Broadwood Stadium.
"It will be a blow to the Cumbernauld area to lose its senior team," said the SNP's Hepburn.
Having played their home matches at Shawfield Stadium in South Lanarkshire's Rutherglen area for almost century, Clyde groundshared with Partick Thistle and Hamilton Accies ground for several years before moving to Broadwood in 1994, leasing the ground from North Lanarkshire Leisure, which is part of North Lanarkshire Council.
However, last year the Third Division club announced their intention to move away from Broadwood.
A statement on Clyde's website said: "Clyde Football Club can announce that it is in discussions with East Kilbride Thistle regarding a potential opportunity to develop a community focused stadium at the Showpark in East Kilbride.
"To this end, the club has begun to work through the process with the aim to develop a sports complex at the site which will be able to host an SFL compliant stadium and other sporting activities within a community facility in the heart of East Kilbride.
"Clyde has... held positive talks with their landlord, North Lanarkshire Leisure Trust, and have developed appropriate exit terms.
"Since that announcement, Clyde has looked to stay close to Cumbernauld and has sought support from North Lanarkshire Council with a view to minimising disruption to supporters and those working around the club.
"Initial optimism at finding a local site with the assistance of NLC evaporated early on and the club made its own efforts to find alternatives.
"Unfortunately, we have not been able to identify an appropriate site and will therefore pursue the potential development at the Showpark as it currently presents Clyde FC with the best opportunity to achieve a permanent base in which it can have control over its own destiny for the first time in over 60 years.
"The long-term nature of the project means that Clyde have no imminent plans to leave Cumbernauld and plan to remain at Broadwood until an alternative location is secured beyond doubt."
Mr Hepburn described the news of Clyde's intention to leave Cumbernauld as "disappointing" and became aware of the potential move after a meeting with club chairman John Alexander.
"Following my meeting with John Alexander, I wrote to North Lanarkshire Council to request that they do all they can to help Clyde stay in Cumbernauld.
"In light of the club's statement, it is imperative that they respond quickly to my request, lest the town lose it's one and only senior football club."