Yakubu says Blackburn's players want to win for manager Steve Kean
By Paul Plunkett
BBC Sport
Last updated on .From the section Football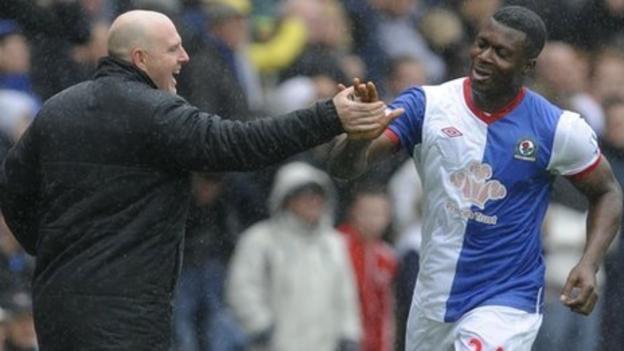 Blackburn Rovers striker Yakubu says the players are desperate to ease the pressure on manager Steve Kean.
A march is planned on Sunday before the Tottenham game at Ewood Park, followed by a sit-in protest after the match.
"We just have to stick together and do our job. In the end those fans will be with us again," Yakubu said.
"The protests do affect some players but I just concentrate on doing my job. There is always pressure when the team is not doing well.
"But the pressure isn't on the team when you're losing, it is always going to be put on the manager.
"All the players are behind Steve Kean. When he talks to us in training, we are impressed. It's our job to go out there and win - and that's all we focus on.
"We got a good draw against QPR last week and we will take that into our game against Tottenham.
"If fans stick together with us, we will be fine."
Yakubu, 28, signed a three-year deal for Blackburn on transfer deadline day in August, ending a nightmare final three years at Everton. A ruptured Achilles in 2008 put him out of the game for almost a year and he was never able to work his way back into manager David Moyes' plans, ending last season on loan at Leicester.
He made an immediate impact at Rovers, scoring twice on his debut in the 4-3 win against Arsenal, Blackburn's only Premier League win this season.
And Yakubu believes there are plenty more wins to come under Kean's stewardship.
He added: "Steve Kean and the owners are big influences on me. Without them, I wouldn't have come here.
"We have a young team with quality players. It's just about being patient.
"People should give Kean a chance to do his work and we will be fine.
"I know it's hard when you don't win games and the pressure is on the manager - that's normal. For me as a striker, if I don't score goals I'm under pressure. If we don't keep clean sheets, there's a pressure. In this game, there's always pressure.
"But we just want to go into this game at the weekend giving our best to get the three points we need."
Yakubu will be reunited with Spurs manager Harry Redknapp on Sunday, the man who brought him to the Premier League with Portsmouth in 2003 and whom he describes as an "inspiration".
He said: "Harry has been really good. I have to thank him a lot. He gave me the opportunity to play every week at Portsmouth and I proved I can play in the Premier League.
"Harry was a big influence. Even when you didn't play well, he would always put an arm around you and tell you it wasn't your day and to think about the next game.
"He made you believe in yourself and you wanted to work for him. He made you believe you could play against any defender in the world, which was really good."