Plymouth Argyle takeover could be completed by Friday
Last updated on .From the section Football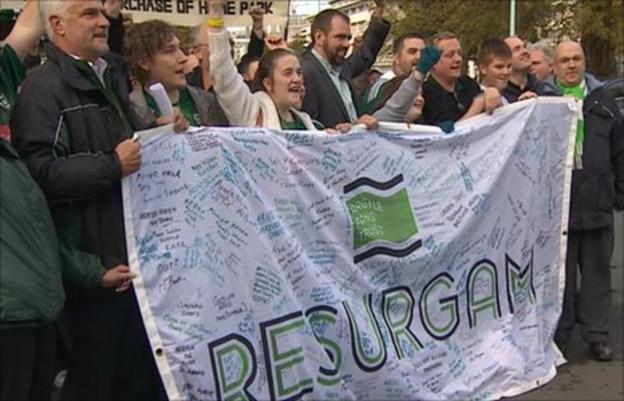 A deal to take over Plymouth Argyle could be completed by Friday.
James Brent's Akkeron Group is in discussions with creditors following Plymouth City Council's agreement to buy Home Park on Tuesday.
"I'm hoping that over the next 48 hours we'll be able to do it, but it does require the support of a large number of people," he told BBC Devon.
"The vast majority of people have signed up to it but we need everybody's agreement to finally save the club."
He added: "We have several hundred people that need to sign various agreements but we have the majority of those agreements already signed.
"We have indications from the majority of the balance that they will sign but we do need 100% of all those signatures."
The club has been in administration since March and has not fully paid players and staff for almost a year.
On Tuesday Plymouth City Council agreed to pay £1.6m for Home Park, with Argyle paying them £135,000 a year in rent.
"I don't think the taxpayers are bailing out the firm, I think what the taxpayer is doing is working in conjunction with a private sector investor to save what is a very important institution for the South West," Brent continued.
"I was willing to work with the council to save the club for the city but I wasn't willing to do it on my own.
"I've got some fairly substantial business interests and I have to allocate equity to the various interests.
"I've allocated a certain amount of equity to the football club but need to work in conjunction with the council to buy it."
But while James Brent's deal will save the club if it goes through, there will still need to be investment in Argyle if they are to thrive.
Plymouth Argyle Fans Trust chairman Chris Webb says local businesses will invest in the club once it is saved.
"The extra cash is going to have to come from the fans getting behind the team for the rest of the season.
"I think what we'll see once James Brent gets in the saddle is a surge of optimism and support not only from Argyle fans on the terraces, but local businesses who are ready to put their money into the club commercially."
And he says he is confident that the club's fortunes will turn around.
"The team is starting to play. On Saturday, with our backs against the wall, we got a last minute winner so there are some shoots of optimism both on the pitch and off it.
"We're bottom of the Football League but we're still getting more people at home than Exeter and Torquay put together so the support base of Argyle is tremendous."