Shola Ameobi praises Newcastle United squad spirit
Last updated on .From the section Football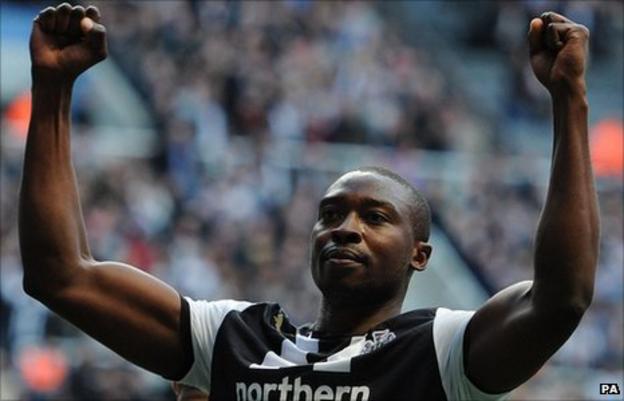 Newcastle United striker Shola Ameobi says Sunday's 2-2 draw at home to Tottenham Hotspur is proof of a "never say die" spirit within the squad.
The Magpies twice replied to Spurs goals to maintain their unbeaten start to the Premier League campaign, with Ameobi on target with the equaliser.
"We more than matched them today," Ameobi tells BBC Newcastle.
"We had our sceptics, but the manager added quality, it's great they bought into the never say die attitude."
Ameobi added: "We've got a great squad here that want to learn and get better."
Newcastle's impressive start to the season has been in contrast to pre-season expectations, with one major bookmaker offering odds of 5-1 that the club would be relegated following a 3-2 pre-season defeat by Leeds United in July.
However arrivals Yohan Cabaye, Gabriel Obertan and Demba Ba have slotted into the squad following the departures of former captains and Joey Barton, with the Tynesiders maintaining their fourth place position after the St James' Park stalemate.
"Spirit doesn't come from one or two people, if it did it would come and go, and that belief was in a squad of players," Ameobi said.
"I have to reiterate that word - squad - we are a squad of players and only 11 people can play on a Saturday, but we all want to play and that has brought the team together.
"Guys who have the shirt know there are people snapping right behind them, wanting that shirt and that can only bode well for Newcastle."