Steven Gerrard savours return to action after groin injury
Last updated on .From the section Football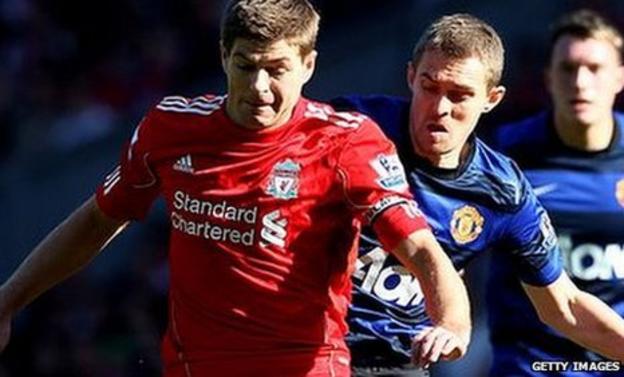 Liverpool captain Steven Gerrard admits he has returned to action with a renewed appreciation for football.
After three substitute appearances since his recovery, he started and scored in Saturday's 1-1 draw with Manchester United.
Midfielder Gerrard said: "I'm delighted to be back and able to experience the emotion of big games again. It has been a frustrating six months."
His goal came from a 68th-minute free-kick as he slotted through a gap in United's wall - but it was cancelled out by Javier Hernandez's close-range header nine minutes from time.
But the Huyton-born midfielder, who played the full 90 minutes, was still glad to be back.
He said: "I didn't realise what I had until it was taken away from me for so long. It would have been the perfect day if my goal had been the winner but it wasn't to be.
"I don't know whether frustration is the right word but the lads were a little bit disappointed we didn't hang on after we took the lead.
"With the chances we created over 90 minutes, I think we deserved to just sneak the three points. I was really pleased with how the lads played.
"Both sides showed each other too much respect in the first half and that was maybe why it was a bit flat. But, in the second half, we came out really positively and kept pushing for that winner."
With a fully fit squad and Gerrard back in the starting line-up, Liverpool are at their strongest for well over a year.
Gerrard added: "You sum a side up by how strong your bench is.
"If you look at our bench against United, we had Craig Bellamy, Andy Carroll and Jordan Henderson - that goes to show how much stronger we've got over the last couple of years.
"It is a really big positive when you know you have big subs coming on and we are really happy with how things are going at the moment."
While Gerrard is impressed by the depth of the squad, his manager Kenny Dalglish still expects great things from the captain.
Dalglish said: "He is a really integral part of the club and will be for years to come.
"He is etched in the history of the club and will hopefully have a few more chapters to write yet."