Hearts showing improvement, says manager Paulo Sergio
Last updated on .From the section Football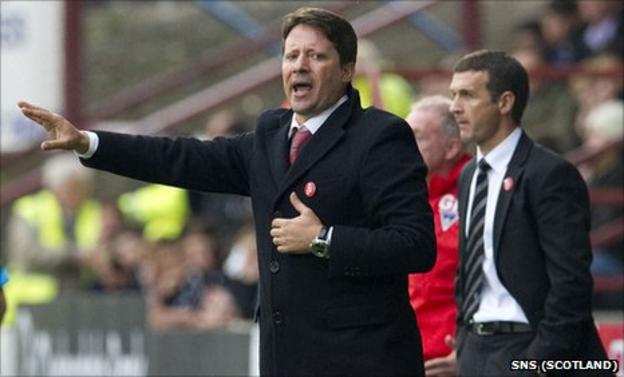 Hearts manager Paulo Sergio saw a difference in his side's performance as they recorded a 2-0 win over Dunfermline.
"We didn't show that desire to win in previous away games like we did today and I think that was the difference," said Sergio.
"We also killed the game off at the right time. We were focused and wanted to win the game.
"Overall, we didn't give Dunfermline any opportunities to score."
Andy Webster headed the visitors in front and Rudi Skacel fired the second-half clincher.
"Sometimes to win you have to play in an ugly way," said Sergio.
"Of course it's nice to play in a nice way, but at times we need to find the balance between short and long passes.
"There is still room for improvements, such as making better use of the play and talking on the pitch, but we are making progress."
Sergio praised scorer Skacel and thought that the midfielder had improved since the start of the season.
"Rudi has the capacity to do that; he has a very good capacity," he added.
"He is now much better than when I arrived."