Uganda coach confirms that Obua will not play
Last updated on .From the section Football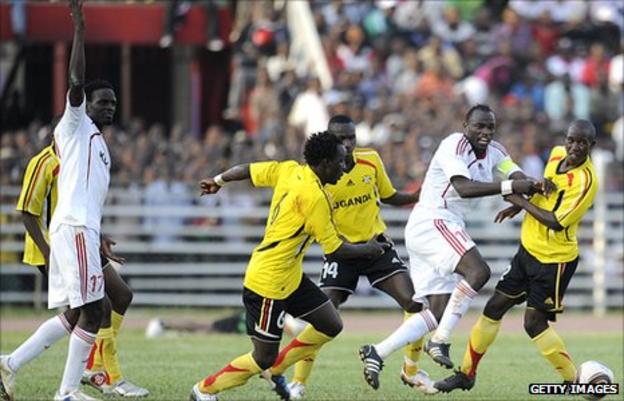 Uganda coach Bobby Williamson has confirmed that David Obua will not take part in Saturday's decisive Africa Cup of Nations qualifier against Kenya.
The midfielder initially walked out of camp after learning he could not ask any questions during a morning visit from President Yoweri Museveni.
He was then axed but refused to leave, telling local radio: "I am ready for the biggest game of my life."
But Williamson has confirmed that Obua is no longer part of the Uganda squad.
"It's my decision. I have informed the FA and he has now left the camp," the Scottish coach told BBC Sport.
The Cranes must beat the Harambee Stars in their final Group J qualifier to be certain of qualifying for January's finals.
Obua's absence from the squad echoes the build-up to Uganda's biggest game ever, when father Denis was banned from the 1978 Nations Cup final for indiscipline.
David had been a doubt for the match because of a thigh injury, with local media saying this is a reason he gave for why he could not afford to sit around while waiting for the president.
His walk-out resulted in his dismissal from Uganda's training base in Kampala.
The versatile Hearts player is one of Uganda's most important players, so will be a big loss ahead of the critical derby.