Bath City out of FA Youth Cup after underpants row
By Neil Johnston
BBC Sport
Last updated on .From the section Football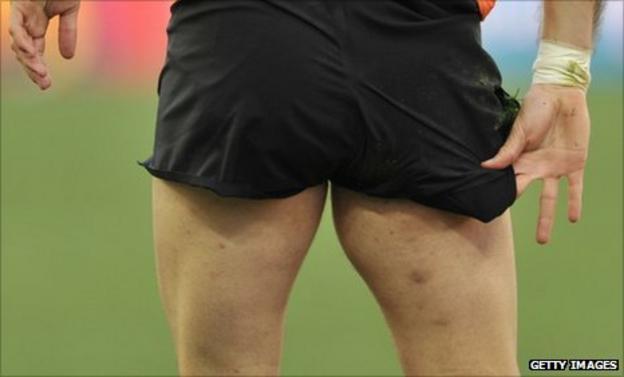 Bath City had five players sent off as an FA Youth Cup tie descended into farce following a row over underpants.
City boss Billy Clark was also dismissed by referee Darren Adie, who ruled players' underwear breached rules during Newport County's 6-0 win.
Underwear must be the same colour as the shorts but Bath's white pants were visible below their black shorts.
"It was all very surreal. I was angry with the officials," said Bath managing director Paul Williams.
"Rules are rules but the officiating wasn't what it should have been for a youth cup tie.
"Why didn't the officials check the colours before the start?
"Every team has to submit a report about the officials to the FA. Let's just say ours is a very long report."
Defender Billy Cooper was first to be sent off during the first qualifying round tie at Newport.
Manager Clark was then punished for dissent and ordered from the dugout, while Ciaran Rogers, Zemell Burton, Ben Bicknell and goalkeeper Lewis Pierre also saw red.
A statement on Bath's official website said: "We had been expecting to publish a match report of last night's FA Youth Cup first qualifying match between Bath Academy and the Newport County Academy.
"Due to the controversial events that took place during the match - and the fact the vast majority of the players in the match are under 18 - we will not do so at this time."
Newport County secretary Mike Everett said he had no complaints about the referee's performance.
"I understand that the initial problem was regarding incorrect undergarments," he said. "The referee made his decisions. There's not a lot I can add."