Kilmarnock's Kenny Shiels calls for full-time referees
Last updated on .From the section Football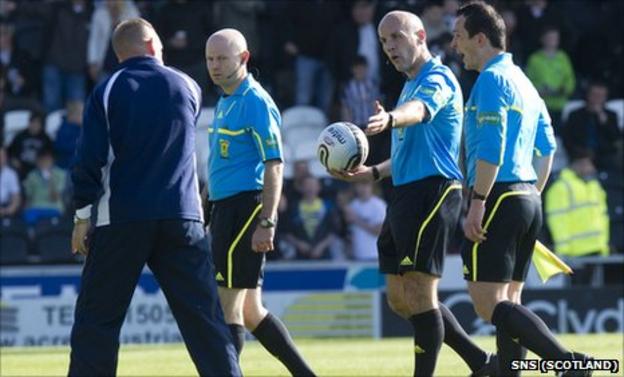 Kilmarnock boss Kenny Shiels would like to see professional referees overseeing Scottish Premier League matches.
"The system in place at the moment doesn't provide them with a full-time working relationship," said Shiels, who was upset by decisions at the weekend.
"They're doing their work all week then they come in to try and keep up with the pace of professional footballers.
"Scottish referees are very good but with part-time referees what develops from that is an inconsistency."
Shiels was frustrated to see Killie striker Paul Heffernan's early effort disallowed for offside in the 3-0 loss to St Mirren on Saturday.
And he was furious at the penalty given to the home side when Zdenek Kroca was punished for handball.
The former Tranmere coach would like to see top flight Scottish match officials turn professional, like their counterparts in England.
"I'm talking about a reduction in the number of mistakes made and certainly if our officials were trained to the capacity of those in the English Premier League that would be very good," he added.
"I watched Match of the Day on Saturday night and there were two goals scored by the referees providing good advantage.
"They made spontaneous decisions and it was good for the game.
"When I worked in England, the local referee always trained with the team.
"Mike Dean, for example, trained with us and got himself up to a really good fitness. He watched how we played and got involved in some of the practices, which made him more aware.
"There's mental training and all sorts of different training that they need.
"And they need to come in and maybe do some work with the teams.
"We need to embrace that and have them as part of our industry, so that we have better relationships and they take down their defence mechanism, that sort of stuff."