Tamas Priskin can exit Ipswich Town - Paul Jewell
Last updated on .From the section Football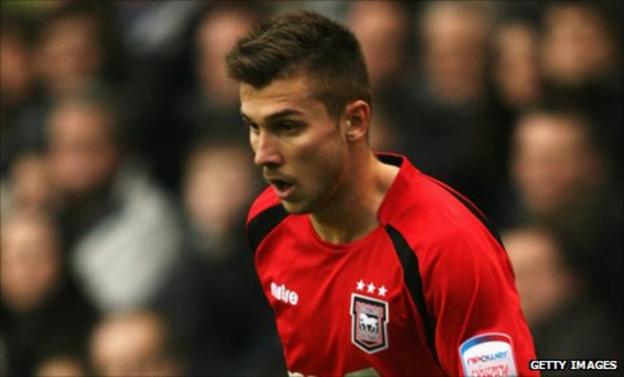 Ipswich Town boss Paul Jewell says he has no vendetta against Tamas Priskin, but has told the striker he is free to find another club.
Jewell told BBC Radio Suffolk: "It's not disappointing, if he wants to leave, he can leave.
"All he needs now is somebody to come and take him."
He added: "He's not in my bad books, I think what he means is he is not in the squad."
While on international duty, Priskin is quoted as saying: "I don't get the chance from Paul Jewell, I'm in his bad books.
"Fortunately my contract will expire in 2012 so I can sign to anywhere next summer.
"I'm sure this is my last season here, I don't want to stay.
"It would be great to go on loan to a team where I can play regularly. Then I'll see in January, I'll go to another club if I get the possibility."
But Jewell questioned the former Watford man's desire to go out on a temporary deal.
"I had him in this office and told him Leeds wanted him on loan and he said he wasn't sure about going on loan," the Town manager explained.
"He said he'd think about it, speak to his agent, speak to his mum's best friend and his dad's uncle to see what they thought of it, and by the time he thought about it Leeds had gone for Andy Keogh.
"On deadline day every Championship club was called and everyone came back with the answer 'no'."
Meanwhile, Jewell has been satisfied with what he has seen from West Ham goalkeeper Marek Stech during his trial spell at Portman Road, with a loan move a possibility.
"We know Fulham could call back David Stockdale, so we have to make sure we see if there's anything about," said Jewell.