Steven Gerrard's Liverpool return will not be rushed - Kenny Dalglish
Last updated on .From the section Football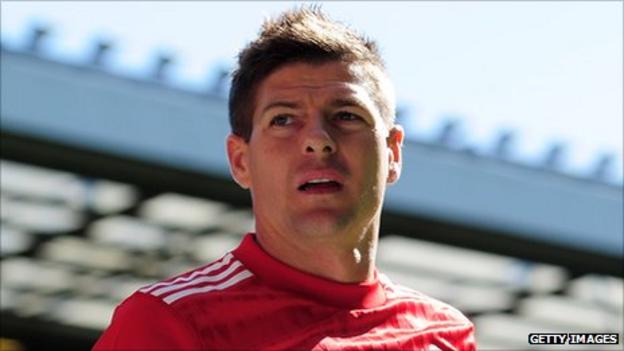 Kenny Dalglish insists Liverpool are taking a sensible approach to Steven Gerrard's return from a groin injury.
The 31-year-old midfielder was planning to make his comeback from six months out in Sunday's Premier League game against Tottenham at White Hart Lane.
But the Reds captain looks likely to miss out and return next Wednesday in the Carling Cup against Brighton.
"There is no rush from us or from him because it has to be common sense," said Liverpool boss Dalglish.
He added: "Everyone who is asked to play will be fit enough to play.
"We will pick and choose when it is best suited for Steven, whichever games suits him best.
"We will analyse his recovery and how the progress is (and) we will do the same for Martin Kelly."
Gerrard has not played since March after undergoing groin surgery.
The England international was expected to be ready for the start of the season but suffered a setback in July when he was admitted to hospital with a related infection.
Gerrard said earlier in September: "Since coming out of hospital my rehab has gone really well. I'm really happy and positive again. My groin is as strong as it's ever been.
"My groin is tested when I'm working and the physios collect data. My groin scores now are better than before I even started feeling my groin.
"What I've done over the past four weeks tells me that's the case and I've got total confidence in it."
Liverpool's only real injury concern for the trip to north London is defender Glen Johnson, who suffered a recurrence of a hamstring injury in the 1-0 defeat by Stoke.
"We are just waiting for some test results to come back," Dalglish confirmed.